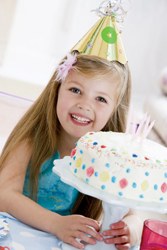 Food at parties seems to be an increasingly challenging issue. Some parents have gone organic, while more kids are diagnosed with allergies and lactose intolerances, and then there is the old-fashioned picky eater. See what advice the experts in your area had for parents about serving the right food at your child's birthday party:
"Call the parent who is hosting the party ahead of time and find out what types of food they're serving. If they could offer a variety so one or two children don't feel left out, that would be great."
-Laura Lynn Iacono, Pediatric/Adolescent Registered Dietitian, CEO and Founder of One Potato Two Tomato, Albertson
"We are nut free and will accommodate children with gluten and lactose intolerance by suggesting parents bring suitable food for them. We discuss the menu so parents can bring a similar dish. We also spend time with parents reviewing the labels and ingredients we use."
-Lynne Gerald, Owner of What's Cooking?, Oyster Bay
"We are a peanut free facility and we do our best to accommodate children either by getting a specific brand or food or asking the parent to bring in the meal."
-Allison Ginsberg, Owner of Little Chefs, Port Washington and Syosset
"We ask for enough advance notice so that we can accommodate all special requests. If one or more children have allergies or special requirements, we can adjust our recipes accordingly."
-Laura Graney, Owner of The Cupcake Corner, Inc., Garden City
"The host might want to ask other parents if their children have any food allergies. We ask parents to bring the cupcakes so they can control what ingredients are used."
-Master Kadir Kadri, Owner of Shaolin Defense Centers, Islip
"We leave it up to the parents; whatever they would do at home, they could do here."
-Lynda Straker, Owner of Chilibeans Party Place, Hempstead