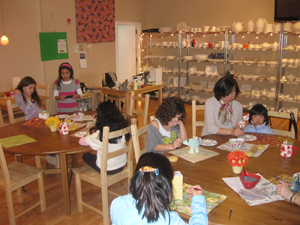 You could be drinking your next morning cup of coffee from your own work of art. Beginners and true "artists," children and adults alike can stop in Stay "N" Clay in Port Washington and create their own uniquely designed pottery. Owner Vinessa Manfre says she set out to "create an environment that was comfortable for kids to want to create but also a place where parents would want to relax with their child, too."
At this paint-your-own-pottery studio, participants will choose a piece of ready-made pottery design to paint and decorate for the final piece. More than 300 options, such as boxes, figurines, vases, décor, and plates, are available. Manfre also offers coffee, tea, and hot chocolate, as well as mosaics and art classes. She also plans to expand services, allowing people to build the clay themselves. Parents can schedule children's parties in Stay "n" Clay's private birthday area that accommodates up to 20 kids. And don't worry - the paint is completely washable, Manfre says. Other areas have ample space for adult events with a guest list of around 50 people.
Artistic expression can be very therapeutic and relaxing, which is something kids need in their lives, Manfre says. "It is gratifying when they see their piece displayed in their home or used in the kitchen by their parent."
Stay "N" Clay is located at 2 Shore Road in Port Washington. For more information, call 516-883-7500, e-mail [email protected], or visit www.staynclay.net.