An Historic Adventure Park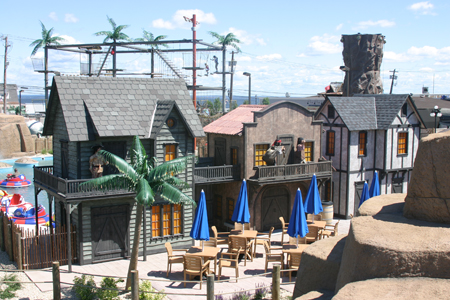 Looking for a place to spend a day this summer? How about a park filled with adventurous discoveries and pirate fun? Bayville Adventure Park offers exciting and active attractions based on the history, accomplishments, and hobbies of the Bay family (comprised of a pirate, carnival entrepreneur, archaeologist, primatologist, inventor, and scientist).
Located across from the beach, the park is steeped in history. In 1658, Pirate Captain Bartholomew "Blackheart" Bay purchased the land from the Native Americans and hid his treasure there. Years later, in 1851, carnival entrepreneur Balthazar Bloodworth Bay settled on the same land his ancestor did along with his family's traveling carnival.
Families can get ready to play on a pirate-themed miniature golf course, search for treasure, get fit with indoor rock climbing (former mayor Bradley Bay was a famous mountain climber), play on bumper boats on the water, ride an adventure train, or spend time in Professor Burton Bay's Arcade of Amusements.
New this summer is a trampoline bungee attraction, Buzz Bay Bungee Bounce, where daredevils can leap more than two stories high under the Adventure Dome. In Berkley Bay's Wild Water Balloon Wars, kids learn how to launch water balloons from opposing training stations, getting soaked in the process. In Biloxi Bay's Tombstone Creek Treasure Hunt, kids collect gems, rare coins and fossils found in Tombstone Creek. Another popular attraction is Brittany Bay's Jungle Tree Top Adventure, featuring a 30-foot high ropes course in a recreated jungle. Finally, families can end the day at the Ice Cream and Soda Shoppe for dessert.
Park Info
Where: Bayville Adventure Park, 8 Bayville Avenue, Bayville (across from the beach)
When: Sunday-Thursday, 11am-10pm; Friday-Saturday 11am-11pm
How Much: One-day unlimited ticket $29.75; two-day unlimited ticket $39.50.
For More Information: 516-624-RIDE (7433) or www.bayvilleadventurepark.com