Related: nature's kids, preschool, nursery school, long island, ny, center for science teaching and learning, tanglewood preserve, new places, new programs, kids, children,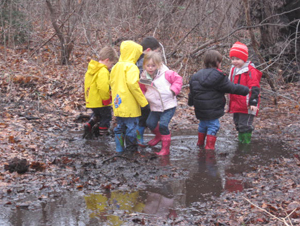 Children can connect with the outdoors at Nature's Kids nursery school in the Center for Science Teaching and Learning (CSTL). As Long Island's only nature-based school, 3- and 4-year-olds are whisked away from the TV and into a world where they have the chance to see a chinchilla and have fun on a playground built with fallen trees and other natural materials.

Science center director Dr. RayAnn Havasy says the facility is a great family place with a mission to encourage science learning and literacy. "It's very hands-on," she says. "Nature's Kids was created to get little ones outdoors and in a safe, wonderful, preserved environment that has them noticing the world around them."

Dr. Havasy realized that kids were not getting enough exercise and were forgetting where things come from. This, along with research pointing to how much children enjoy science-based learning, helped build Nature's Kids curriculum. "There's nothing like putting a salamander in a kid's hands," she says. "The most incredible thing is there are 35 live animals here, which is different from most nursery schools." Parents can enroll their kids for an up-close-and-personal learning experience with animals like bearded dragons, salamanders, and owls. Morning and afternoon courses are available.

Nature's Kids is located at 1 Tanglewood Road in Rockville Centre, NY. To learn more, email the center at [email protected], call 516-764-0045, or visit www.cstl.org.
Also see: Our Education Resource Guide for Long Island and the New York metro area
More Local News - Nassau County, Long Island Articles
South Shore Ballet Academy Opens in Amityville
Marion K. Salomon and Associates Joins HASC
Kidville Opens in Wantagh, Offers Preschool Alternative Class
Academic and Creative Preschool Relocates to West Hempstead
Variety Child Learning Center Opens Second Location

Be a good fellow parent and share this with a friend who would be interested
Local Local News - Nassau County, Long Island Sponsors
See Our Local News - Nassau County, Long Island Directory