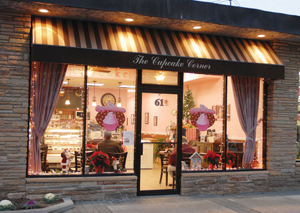 The ladies of The Cupcake Corner bakery have opened a new store devoted to party planning of all kinds. The Cupcake Corner Too helps customers prepare for children's parties, bridal and baby showers, nights out on the town, or any other special event.
Owner Laura Graney opened the bakery about a year ago, and had been catering to birthday party needs for some time. After an increase of requests to host larger events started to roll in, she decided a second location was a natural next step. "Our parties are very hands-on, and we teach both children and adults skills while they have fun and socialize," Graney says.
A variety of activities are available to clients depending on the type of event, including jewelry making classes, where Graney - with clients such as Michele Obama and Brooke Shields - can pass on her skills learned as a successful jewelry designer.
With her daughter and niece as chefs and the support of her husband, Graney's The Cupcake Corner (pictured) and The Cupcake Corner Too are businesses with a family foundation. "We wanted to provide our hometown with a fun place to relax and enjoy delicious food, gourmet beverages, and fun parties," Graney says. "[It's] the most challenging, yet most rewarding, position I've held."
The Cupcake Corner Too celebrated its grand opening on January 29. Visit the new location at 62 New Hyde Park Road in Garden City. You can also call 516-328-2255, or go online to www.thecupcakecornergc.com for more information.
Also see: Our Birthday Party Resource Guide for Long Island and the New York Metro Area