We've handpicked the best family events in Nassau County, Long Island from our August 2011 calendar. Check out the top events to bring your kids to this month, including a performance of "Jack and the Beanstalk" in Westbury, a 3D art workshop at the Nassau County Museum of Art, a variety of children's theater shows throughout the county (including "The Jungle Book" and "Dora the Explorer LIVE"), and the popular Long Island Scottish Games and Festival at Old Westbury Gardens.
Also see: A roster of storybook-inspired shows playing this month across Long Island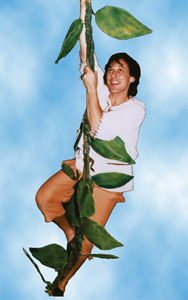 Jack, Be Quick!
Kids will be fascinated by this production of the classic tale of Jack and the Beanstalk, in which dim-witted Jack outwits a rogue of an ogre and ends up making a fortune. August 2. 11am. $15. NYCB Theatre at Westbury, 960 Brush Hollow Road, Westbury; 516-247-5200.
It's a Family Affair
Grab the family and spend the afternoon at Art in 3D in the Nassau County Museum of Art's Sculpture Park, one of the largest sculpture gardens in the northeast. Participate in a tour, during which families will locate art materials that will be used to create personalized sculptures. Advance registration is suggested but tickets will also be available the day of the event on a space-available basis. August 6. 11am-2pm. $20; $5 children 4-12 (includes museum admission). $2 parking fee weekends only. Nassau County Museum of Art, One Museum Drive; 516-484-9337.
A Salute to Theater
Many of us had high school dreams of becoming actors and joining summer stock companies, but then the reality of memorizing lines and long rehearsals in the heat set in, and, well...you know the rest. Instead, you can sit back and enjoy the stellar performances of others in these summer plays. Check out these options nearby.
The Who's Tommy: Pete Townshend's tale of a young boy's journey from pain to triumph is an exhilarating story of hope, healing, and the human spirit. August 5 at 8pm. $28. Theatre Three, 412 Main Street, Port Jefferson; 631-928-9100.
Jungle Book: This classic story features Mowgli, a jungle child who was raised by wolves. When Mowgli is threatened by a man-eating tiger, only with help from the children in the audience can he defeat the beast. August 13 at 2pm. $10; $8 children 3 and up; free children under 3. Vanderbilt Carriage House Theater, 180 Little Neck Road, Centerport; 516-293-0674.
Or you can try Theater Fun: Get some courage, jump on stage and join the fun. Take part in theater workshops at the museum, such as "Simple Machines Please," "Balance and Motion," or "WLICM Radio Live." August 5 at 2pm. $4 with $11 museum admission; $8 theater only. Long Island Children's Museum, 11 Davis Avenue, Garden City; 516-224-5800.
Heave- O!
Who knows who's going to walk the plank? Dora The Explorer LIVE! Dora's Pirate Adventure finds Dora, her best buddy Boots the Monkey, and their friends taking a trip to Treasure Island. There's a lot of monkey business as the audience helps them find their way over Dancing Mountain to confront the Pirate Piggies. It all ends happily onstage with a yo-ho-ho and a barrel of fun. August 13. 11am, 1pm, and 3pm. The Long Island Children's Museum, 11 Davis Avenue Garden City; 516-599-6870.
Stolen Stories
Catch a performance of Stolen, a riveting play featuring four self-contained stories, ranging from the comic to the sexually charged, bound by the common thread of something stolen. The play takes the audience on a roller coaster ride of music, mystery, and comedy. August 19-20 and August 27 at 7:30pm; August 21 and August 28 at 2pm. Appropriate for older teens and adults. Call for pricing, Dix Hills Performing Arts Center, 305 North Service Road, Dix Hills; 631-656-2148.
The Scots Are Coming!
Aye lassie, can you dance a jig? Exhibition bagpipe bands, Scottish marchers, Celtic dancers, and lots of kilts are all part of the Long Island Scottish Games and Festival. Participate in a game of chance or other exciting children's activities; view shiny, antique British automobiles; purchase novelties; chomp on delectable Scottish delicacies; and cheer on the Brigadoons, the Nassau County Country Dancers, MacTalla Mo'r, and other crowd-pleasing entertainers. August 27. 8am-5pm. $15; $10 seniors; $5 children 7-17; free children ages 6 and under. Old Westbury Gardens, 71 Old Westbury Road, Old Westbury; 516-333-0048.



Shall We Dance?
The community is invited to take advantage of an Open House at the Great Neck Arts Center offering free dance classes including Hip Hop, Jazz Hop, Tap, Broadway Dance, Adult Zumba, Primary Ballet, and Ballet I, II and III. In addition, students and their families will have a chance to meet the dance teachers in a relaxed setting. Complimentary refreshments will be served. Call for class schedule. August 28, 10am-1pm. Great Neck Arts Center, 113 Middle Neck Road, Great Neck; 516-829-2570.
For even more upcoming family events on Long Island and the NYC area, check out our Online Calendar.