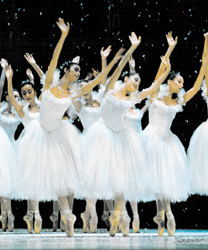 A Tradition of Sweet Dance
As the stockings are hung and lights are aglow, there's no doubt that images of sugarplums, the Snowflake Waltz, and the delicious Land of the Sweets will dance in your head. The Nutcracker, accompanied by Tchaikovsky's famous score, will be featured live on stage in several Nassau locations this holiday season. The timeless ballet story unfolds the tale of Clara and her doll in a magical dream world where a battle between the Nutcracker army and the Mouse King's army takes place, a Christmas tree grows to gigantic proportions, and the Nutcracker whisks Clara away on a delightful journey to faraway lands where snowflakes dazzle and dew drops dance. Relive the excitement or introduce the holiday classic to someone new at several theaters throughout Nassau and select performances in Suffolk.
Info:
In Rockville Centre: Leggz Ltd Dance Ensemble, which has performed at the Orange Bowl Half-Time Show, Walt Disney World, and New York City's St. Patrick's Day Parade, presents this full-length version of The Nutcracker with the South Shore Symphony Orchestra. December 4, 5, 6. Call for times and prices. South Side High School, 140 Shepherd Street, Rockville Centre. 516-766-7171. www.leggzltd.com.
In Westbury: The Russian American Ballet, which received an award from Mayor Michael Bloomberg for Best Ballet Show for the Young Audience in 2009, performs the traditional story. December 12 at 1pm. Prices vary, see website. Capital One Bank Theatre at Westbury, 960 Brush Hollow Road. 516-334-0800. www.capitalonetheatre.com.
In Brookville: The Eglevsky Ballet performs a full-length, professional production of The Nutcracker on stage, dancing to Tchaikovsky's traditional score. December 19 at 2 and 7pm; December 20 at 2pm; December 21 at 6pm. $35, $50, $60. Tilles Center for the Performing Arts, C.W. Post Campus, 720 Northern Boulevard, Brookville. 516-299-3100. www.tillescenter.org.
Select Performances in Suffolk:
In Lindenhurst: The classic holiday musical features lyrics and Tchaikovsky's legendary score, but it is not a ballet version of the story. After the show, kids can snack on milk and cookies with Mrs. Claus. Pre-registration required. December 5, 12, and 19 at 2pm. Call for pricing. Broadhollow's Studio Theatre, 141 South Wellwood Avenue, Lindenhurst. 631-581-2700. www.broadhollow.org.
In Stony Brook: Seiskaya Ballet's production, which was called Long Island's most lavish Nutcracker performance back in 1995, returns to the Staller Center for its 30th season. The ballet is choreographed by the world-renowned, Russian-born Valia Seiskaya. Kids will love the 14-foot-tall mechanical replica of the Nutcracker and a toy soldier in the lobby. December 12 and 19 at 2 and 7pm; December 13 and 20 at 1 and 6pm. $34, $29 seniors and children 12 and under. Staller Center for the Arts, Stony Brook University, off of Nichols Road, Stony Brook. 631-632-2787. www.stallercenter.com.
Check out more kid-friendly holiday activities and events happening this December in Nassau County, Long Island.