HALLOWEEN CANDY BUY BACK PROGRAM HOSTED BY MERRICK DENTIST OFFICE TO SEND SWEETS TO U.S. TROOPS
Related:
merrick candy buy back program
,
where to donate halloween candy
,
what to do with extra halloween candy
,
Every Halloween, many collect more candy and sweet treats to last them the entire year. Donate extra Halloween candy at the second annual Candy Buy Back program hosted by Merrick Pediatric Dentistry and help send a smile to U.S. troops stationed around the world.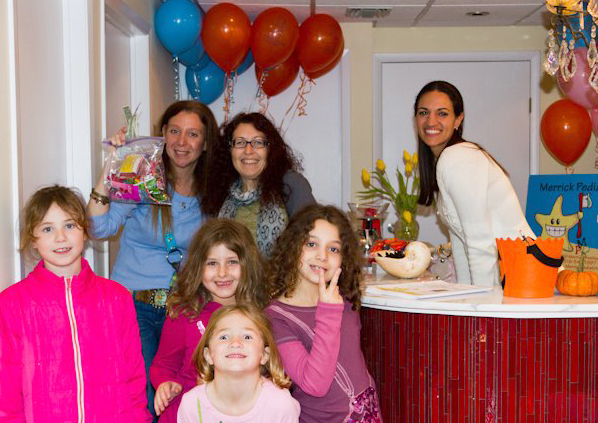 Dr. Elbaz (far left) with attendees of last year's candy buy back event who donated a bag full of leftover Halloween candy. Courtesy Merrick Pediatric Dentistry.
It might be hard to imagine kids voluntarily giving up their hard-earned candy from a night of trick-or-treating, but the children who attended the Halloween Candy Buy Back event hosted by Merrick Pediatric Dentistry last year were more than happy to fork over their candy for a good cause and a small amount of money. This year, Rania Elbaz, D.D.S., founder of Merrick Pediatric Dentistry, knows the second annual Candy Buy Back program will produce similar results.
"We had around 70 kids last year. They donated more than the 5-pound maximum and they didn't want more money," Dr. Elbaz says. "They were really excited. I think people would have thought they would be sadder to part with the candy. There weren't any crying kids, that's for sure."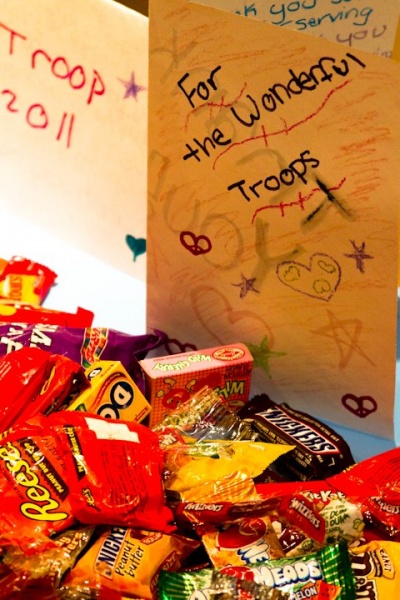 Kids created cards for the U.S. troops and exchanged their candy for up to $5. Courtesy Merrick Pediatrick Dentistry.
Last year, the event collected about 250 pounds of candy and partnered with local schools and organizations that gathered another 200 pounds, ultimately donating 450 pounds of candy to Operation Gratitude, a nonprofit that sends care packages filled with snacks, entertainment, and personal letters to U.S. troops. For each pound of candy donated, a child earned one dollar, up to five dollars.
In addition to sending pounds of candy to U.S. troops through Operation Gratitude, kids were encouraged to write a letter or draw a picture at the craft table to send to the troops.
"The biggest thing is that this is a good way to teach kids to help other people," Dr. Elbaz says. "Everyone has so much extra candy every year."
This year, the Candy Buy Back event will be held Nov. 3 from 2-5pm on Merrick Avenue less than half a mile from the Southern State Parkway. The event will host a raffle, fun kid activities, including face painting, and more.
For more information, call Merrick Dentistry at 516-547-1997 or visit merrickpediatricdentistry.com.
---
Get Your FREE Indoor Activity eGuide!
---
More Halloween Articles Articles
7 Tips for Trick-or-Treating with Your Toddler
New Book Encourages Kids to Give Up Halloween Candy
Halloween Activities in Bucks County, PA
DIY Alien Monster Egg Halloween Decoration
Toddler-Friendly Halloween Events in Fairfield County, CT