ChiroMom, a chiropractic practice located in Bellmore, now offers acupuncture services to Long Island residents. The chiropractic practice is a family-based wellness center that offers services for the whole family.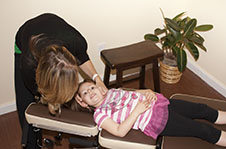 ChiroMom offers services for the whole family, including children's chiropractic.
The licensed chiropractor and supermom behind ChiroMom has expanded its wellness center's services by adding acupuncture to its clinic's arsenal of pain punishing alternative medicine.
ChiroMom is a friendly, family-based wellness center with three years of experience. Dedicated to making all bodies function better naturally, the clinic offers services to all members of the family. Acupuncture is latest proof of that dedication.
First used in traditional Chinese medicine, acupuncture is a technique that is now used all over the world–Bellemore now included. Dana Walters, D.C., founder of ChiroMom, says the treatment is effective for many conditions, such as chronic pain, digestive issues, insomnia, and infertility. A fairly pain-free process, the certified on staff acupuncturist inserts fine needles into the patient in a process that lasts 35 to 40 minutes.
"Acupuncture is just another way to help the body function naturally," Dr. Walters says.
In addition to acupuncture, ChiroMom offers many other natural services, including chiropractic services, mind and body therapy, nutritional support, cleansing, and detoxification. ChiroMom is willing to work with client's insurance, but because many of these services aren't covered by commercial insurance, ChiroMom tries to make it as affordable as possible by offering discounts for bulk service packages.
"We don't make insurance a block," Dr. Walters says.
The acupuncturist is currently available on Saturdays, but hours may expand dependent on demand.