Mid-Island Y JCC's center for special needs in Plainview has a new name—the Adler Center for Special Needs—due to a donation from Kenneth and Ann Dorman Adler. The center provides services for children and adults with special needs.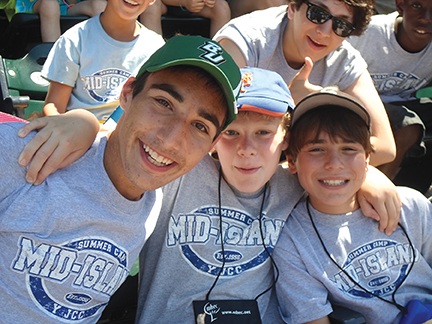 The Mid-Island Y JCC also hosts a summer camp. Last year campers went to a Mets game at Citi Field.
Mid-Island Y JCC Adler Center for Special Needs, formerly known as The K.I.S.S. Center for Special Needs, was recently re-named due to the new donations from Kenneth and Ann Dorman Adler. The center provides many services for children as well as adults with developmental disabilities. These services can range from patients with learning disorders to ADHD and autism.
There are many new programs that are offered on weekdays and weekends. On Saturday, the programs for grades pre-K to 12 are offered in sports, arts and crafts, and music. A bowling class is open to grades 5 and up. On Sundays, programs are offered for children in pre-K and kindergarten, featuring a developmental skills class and swimming skills class. For first through eighth grades, social skills classes are available as well as swim, yoga, and music and movement therapy. For seventh through 12th grades, programs such as singing lessons, life skills, and fitness classes are offered. Weekday programs are offered to children in first grade and up and focus on water safety and swim skills.
"The Adler Center For Special Needs enables participants to establish life-long friendships and become independent and productive," says Joanna Diamond, director of the Adler Center for Special Needs. "Our programs are designed to facilitate the development of social and life skills, including self-esteem, communication, and problem-solving, that influence interactions in the home, the school environment, and in the community."