While They're Little now offers Music Together music classes for children in Oceanside. Music Together is a research-based early childhood music education program that helps children discover their musicality. The music program is appropriate for children ages 5 and younger and their caregiver.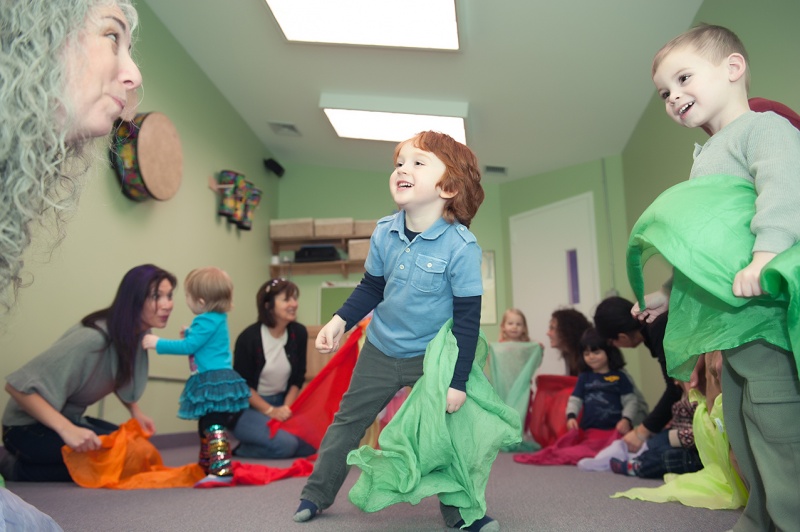 Children in Music Together offered by While They're Little use scarves (and silliness) in movement activities.
While They're Little, a Long Island-based provider of the early childhood music education program Music Together, now offers Music Together classes in Oceanside at the Oceanside Dance Center. Music Together is an international program based on the philosophy that all children are born musical and can learn to sing in tune, keep a beat, and participate with confidence in music, provided that their early environment supports such learning.
The Music Together program is based on research. "Everything we do is for a very specific reason," says Judy Leff, owner and director of While They're Little. "The director of research [for Music Together] is an expert in early childhood music education, and it really comes through in our classes."
Leff says the most important part of the program is having a parent or primary caregiver in the class to model the different activities. "Children learn through modeling from their grownups." Each family receives a songbook and CDs of the music used in 45-minute music immersion class so learning can continue at home.
While They're Little will hold a demonstration class of Music Together on Jan. 9 at 10am in Oceanside. To register for the demonstration class, visit whiletheyrelittle.com or call 516-442-0302. Oceanside Dance Center is located at 3394 Long Beach Road in Oceanside.