PM Pediatrics, an after-hours urgent care center catered to children, recently opened a location in Carle Place. This urgent care center on Long Island is decorated in a southwestern theme.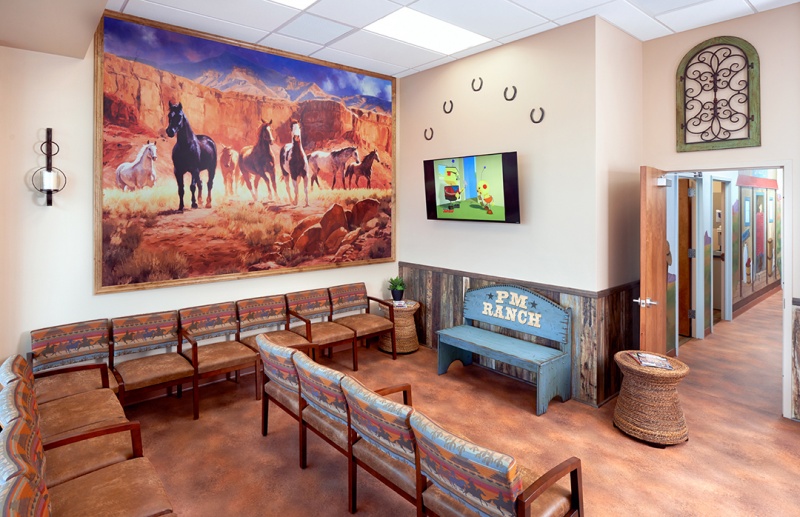 PM Pediatrics' new location in Carle Place is decorated in a southwestern theme.
Parents in Nassau County no longer need to worry about where to find medical care next time one of their little their children gets into a scrape after hours. On April 17, PM Pediatrics expert pediatric emergency services opened its newest branch in Carle Place. This western-themed urgent care center offers the same quality pediatric care that has become synonymous with PM Pediatrics. With an experienced staff, hand picked for its knowledge and ease with children, the Carle Place location offers almost any emergency service in a kid-friendly atmosphere.
"Children are not just little adults," says Elliot Friedman, M.D., medical director of the Carle Place branch.
With almost 20 years of experience in pediatric emergency services, Dr. Friedman says the diseases, medications, and even the normal measurements for vital signs are different for children. Having specialized emergency room care for children can prevent many misdiagnoses, over diagnoses, and even missed diagnoses.
In addition to expertise, the atmosphere is dramatically different at PM Pediatrics from the typical sterile feeling of hospitals that can be scary for children. Each location has a specific theme and TVs that children can control in the reception area and every exam room. The easy-going staff tries to make procedures as painless as possible while taking time to explain things to the child so they won't be afraid.