Athletic training facility Parisi Speed School is currently holding its classes at the Port Washington Tennis Academy while its new facility is being built. The training center offers fitness classes for ages 7 to adult that build agility, strength, speed, and self-confidence, while helping athletes get and stay in shape.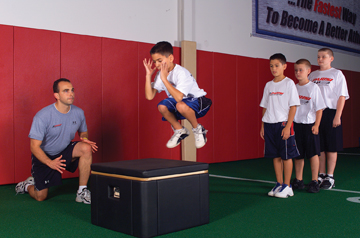 Parisi athletes work on their vertical jumps.
Parisi Speed School, which offers sports training programming, will open its new 14,000-square-foot Port Washington location in summer/fall 2013. Parisi offers Jump Start and Total Performance for children and teens and Training For Warriors and MBSC Thrive for adults.
The Jump Start program, for ages 7-11, incorporates speed and agility training to enhance running technique, coordination, strength, flexibility, injury prevention, and self-confidence, as well as help with weight loss. Total Performance, for ages 12-18, helps athletes increase speed, agility, strength, endurance, jumping ability, and self-confidence.
Training For Warriors, a physical and mental training program originally designed for fighters, combines speed, strength, and endurance training, flexibility work, and nutrition. MBSC Thrive combines conditioning, proper movement, functional strength, and flexibility for weight loss and weight control.
Every athlete (age 7 to adult) that enrolls in classes at Parisi Speed School must complete a Sports Performance Evaluation to assess his or her athletic ability and allow for proper grouping in programs and exercise regimens, as well as tracking progress in the programs.
While the official Port Washington facility, which is located at 2 Channel Drive in Port Washington, is under construction, Parisi is holding its classes at the Port Washington Tennis Academy at 100 Harbor Drive in Port Washington.