Visiting The Dentist Has Never Been So fun!
Are you tired of mediocre pediatric dentists that don't strive to go above and beyond for your child? Would you like to find a dental office to take your child to that you know will not only make them feel comfortable and relaxed, but also provide them with the best pediatric dental care in Long Island, including Nesconset, Massapequa and West Islip? If you answered "yes" to either of these questions, Adelberg and Montalvan Pediatric Dental is the practice for your family.
Good Enough is Never Enough
Whether you're visiting us for routine dental care or a more complex procedure, our board certified doctors always utilize the most advanced equipment and techniques to ensure the highest quality dental care. We're the first pediatric dentistry office in the area to utilize Versa Wave Laser Dentistry, allowing us to work more efficiently and provide comfort to our young patients.
Kids and Parents
We understand that good dental care starts at home, and that's why our dental clinic focuses on educating both parents and children on the importance of dental hygiene. We're happy to provide parents with the tools they need to encourage brushing and flossing, and we're delighted to get kids excited about having a clean, healthy smile.
The Total Experience
From our fun dental office to our friendly and knowledgeable staff – you won't find a children's dentist or orthodontist like us anywhere else! Our total kid-friendly atmosphere and cutting edge procedures will help keep your kids excited about going to the dentist and ensure they receive the highest possible dental care.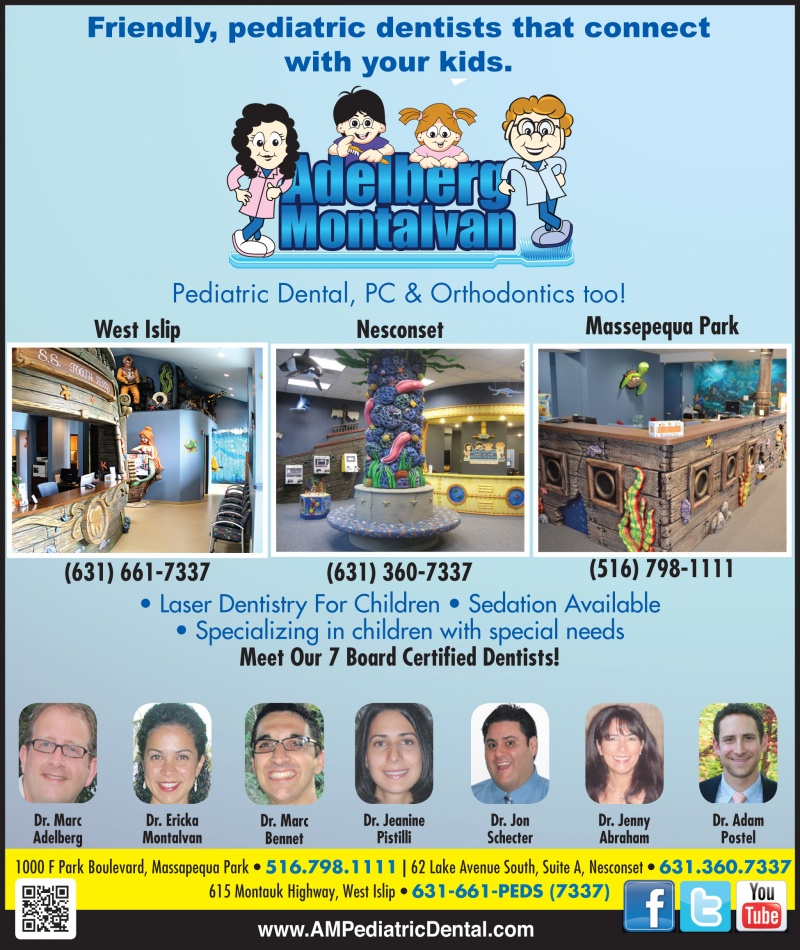 Want to learn more about this business? Send them a direct inquiry.
HEALTH
We are Drs. Adelberg, Montalvan, Bennet, Pistilli, Postel, Schecter, and Abraham. All of the doctors and staff love children and enjoy working with them each day. The doctors have children of their own and live on Long Island. Our purpose is to provide outstanding dentistry in a child- and family-friendly environment that will positively impact your child's life forever. We treat your family like they are our own. All of our doctors are proud to be board-certified specialists and offer the most combined laser dentistry experience in Long Island. From the first call to check out, we want your visit to our office to be an extraordinary experience that will make you say, "Wow!" Our three offices even look like a theme park. We hope to make your children love visiting the dentist.