Welcome to All About Kids, one of the largest providers of English and bilingual evaluation, educational and therapeutic services for children throughout the five boroughs of New York City, Nassau, Suffolk, and Westchester counties.
Formed in 1988, All About Kids has been a company built on integrity and professionalism. We are committed to providing the highest quality of Early Intervention, Preschool, School-age, Autism and Behavioral services to children.
At All About Kids, helping children with developmental delays reach their greatest potential with effective interventions is provided by caring, skilled and dedicated professionals. Our therapists collaborate and partner with parents and other therapists, schools, and community agencies in a multifaceted team approach.
Our Educational and therapeutic services are delivered at home or at school, in a designated community location, or at one of our therapeutic facilities. At All About Kids we strongly support each child's potential for independence in the most natural and least restrictive environment.
Saturday Play Dates. Ages 3-5. Sensory Social Motor Play Dates.
Play, Learn, Play, & Move!
Children negotiate a colorful and fun obstacle course with peers.
All About Kids
255 Executive Dr., LL 108
Plainview, NY 11803
1:oopm-2:15pm or 2:00pm-3:15pm
Play Dates led by Sensory Trained Specialists who guide children through play & movement to build social, motor, language, and problem solving skills. Held in State-of-The-Art Motor-Sensory Gym. Cost $300.00 ( for 6 Sessions), or $420.00 (for 12 Sessions)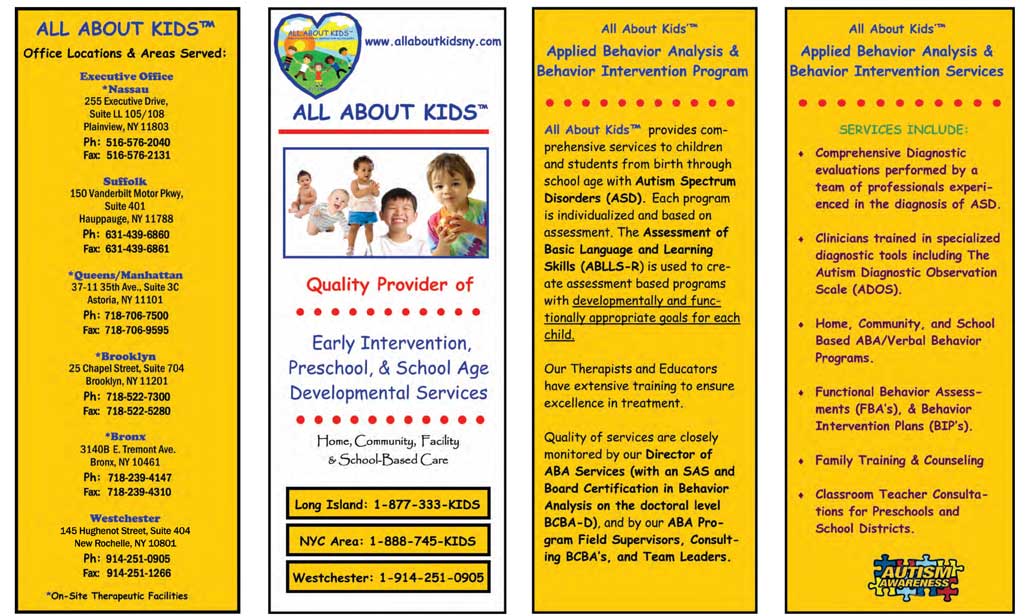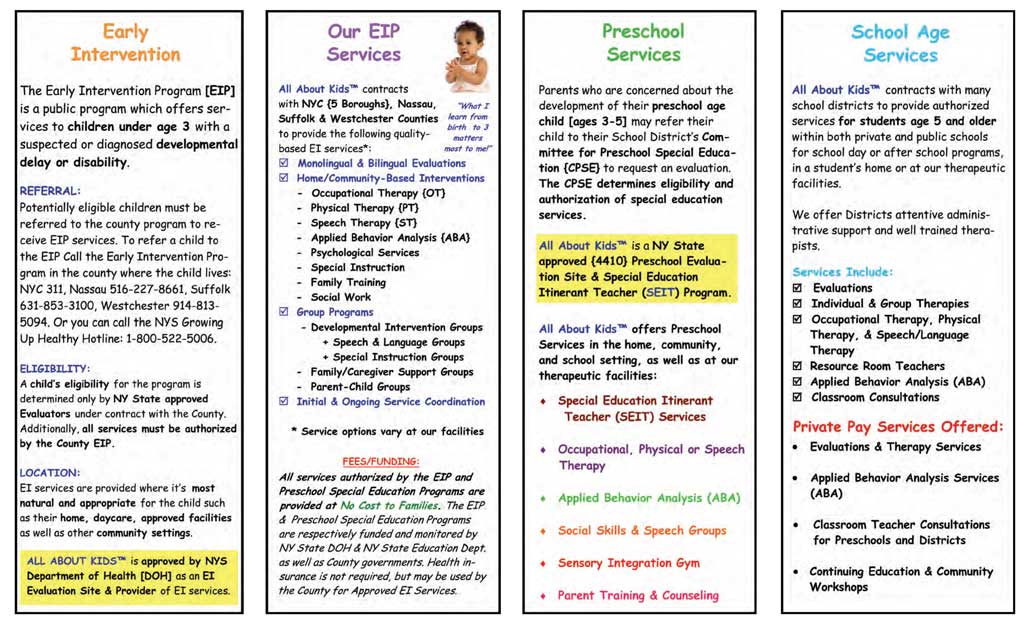 Want to learn more about this business? Send them a direct inquiry.
BACK TO SCHOOL
All About Kids is one of the largest providers of high quality monolingual/bilingual evaluations, consultations, therapeutic, educational, and tutoring services for eligible children (newborn-21) with developmental delays and/or disabilities, including children on the autism spectrum. Services are available in our state of the art facilities, and/or a child's home, school, or community based setting throughout Westchester, all five NYC boroughs, and Nassau and Suffolk counties. We help each child reach their greatest potential.
UPDATE YOUR MICROSITE