Description:
Located in Brookville, New York on the beautiful LIU Post campus of Long Island University, LIU Post Youth Camps is proud to offer four different camp programs to you.
SUMMER DAY CAMP:
Coed. 9:00 a.m.-3:30 p.m. with extended After Camp till 6:00 p.m. (ages 5-16)
Choose a 1, 2, 3, 4, 5, 6, 7, or 8-week program: June 29th – August 21, 2015

Grouped By Age:
Discovery, ages 5 to 7; Adventure, ages 8 to 9; Explore, ages 10 to 11;
Pioneer, ages 12-14 (Pioneers take weekly day trips.)
Leaders-in-training (LIT), age 15; Counselor-in-training (CIT), age 16
Our beautiful facility has many large buildings with air-conditioned classrooms, a recreation facility with an amazing indoor swimming pool, nature trails, cooking labs, state of the art computer labs, and grassy playing fields. We also offer specialty programs such as Horseback Riding, Post's Got Talent, Cheerleading Camp, and an Academic Enrichment Program.
PERFORMING ARTS ACADEMY at LIU Tilles Center:
3 week program: July 27th – August 14, 2015
Youth Chorus: Grades 1-4
Chorus: Grades 5-12
Band: Grades 5-12
Campers will choose a Major Performing Group and three elective courses to participate in. At the end of the three weeks, there will be a Summer Concert Series, which all campers should attend.
VACATION CAMP:
Coed. 9:00 a.m.-3:30p.m. with extended After Camp till 6:00p.m. (ages 5-14)
Choose any or all days: February 16, 17, 18, 19, 20 or April 6, 7, 8, 9, 10
Who said camp is just for the summer? At LIU Post we offer camp during the school vacation when your child is off from school but you are not off from work.
SATURDAY PROGRAMS:
LIU Post Youth Camps offers programs on Saturday mornings in the Winter and Spring. Program hours are from 9-11 a.m. Our program directors are New York State teachers or professionals in their program field. Each program is a 10-session class with all supplies included.
Winter Program:
PROGRAMS: Algebra, Beginning Sign Language, Creative Writing, Dance Studies, Drama, and Handbells
Program Dates: January 10, 17, 24, 31; February 7, 14, 21, 28; March 7, 14
Spring Program:
PROGRAMS: Beginning Sign Language, Creative Writing, ELA Prep Course, Jazz Improvisation, Jr. Musical Theatre, and Yoga
Program Dates: March 21, 28; April 4, 11, 18, 25; May 2, 9, 16, 23, 30
Additional Information:
OPEN HOUSES:
LIU Post Campus – Winnick Center
10:00a.m. – 12:00p.m. on the following Saturdays
December 13; January 17; January 31; February 14; February 28; March 14; March 28; April 11; April 25
Contact:
LIU Post Camp Office
720 Northern Blvd
Brookville, NY 11548-1300
| | |
| --- | --- |
| Telephone: | (516) 299-4004 begin_of_the_skype_highlighting Fax (516) 299-2363 end_of_the_skype_highlighting |
| Email: | |
| Web Site: | |
Facebook: www.facebook.com/LIUPOSTYOUTHCAMPS
Twitter: www.twitter.com/LIUPOSTCAMPS
Want to learn more about this business? Send them a direct inquiry.
2015 OPEN HOUSES
Open houses take place from 11am-1pm at LIU Post Campus' Winnick Center on Jan. 17, Jan. 31, Feb. 14, Feb. 28, March 14, March 28, April 11, and April 25.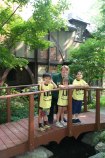 Nickolette Kacharaba (B.A., State University of New York Stony Brook; M.S., Advanced Certificate, LIU Post) has been a part of the LIU Post Youth Camps since 2003. She became director in 2010. She joins LIU full-time after having taught in public and private school for 12 years. Nickolette has been an active member of NAfME, NYSSMA and both Nassau and Suffolk County Music Education Associations. Nickolette's dedication and experiences as a music teacher and LIU Post Youth Camp staff member have helped children and teens thrive in school and their personal lives.
Read More About LIU Post Youth Camps
2015 Open House Dates
Looking for more information on a local camp or school? See below for our list of current, upcoming open houses in Rockland, Westchester, Brooklyn, Queens, Fairfield, Manhattan, and Long Island.
LIU Post Youth Camps Adds Three Programs
LIU Post Summer Youth Camps will add three new programs to its schedule of camp programs for 2014: cheerleading camp, horseback riding camp, and an academic enrichment camp.