Thank you for choosing to learn more about Camps 'R' Us. We provide a fun, safe and affordable summer day camp experience for children ages three through fifteen. With so many options for summer day care out there, we are honored that you have considered us as your child's summer day camp.
During the summer, children get a well deserved vacation from school, but parents still have to work. As a family owned and operated camp, we know the worries that parents face when school ends and summer begins. It is for this reason that we founded Camps 'R' Us.
Camps 'R' Us takes the worry out of planning your child's summer vacation.
Visit our website: www.campsrus.org
Our camp fees are less expensive than other similar camp programs, but did you know that they're also less than the cost of a babysitter? That means you won't have to break the bank to afford summer camp. In addition, your child will join a camp community that will enrich their physical, social and emotional well-being. Even the best babysitters in the world can't do that!
We created Camps 'R' Us with working parents in mind. You can customize your child's summer schedule to meet your specific needs, with your choice of weeks and days. We offer a full day program and there are extended hours available if needed. In addition, all campuses are located within minutes of major roadways and LIRR stations, so you won't have to change your work schedule to accommodate your child's camp schedule.
This summer, you can rest assured that your child is safe with us. We employ the most caring, conscientious, and child-centered counselors in the camp industry. Camps 'R' Us is licensed by the New York State Department of Health in Nassau & Suffolk County. We are also accredited by the American Camp Association, and are the recipient of the prestigious Safety 1st Award.
Locations in Nassau and Suffolk Counties:
Baldwin
Bellmore
Farmingdale
Hicksville
Valley Stream
West Islip
Click here for more information: www.campsrus.org/locations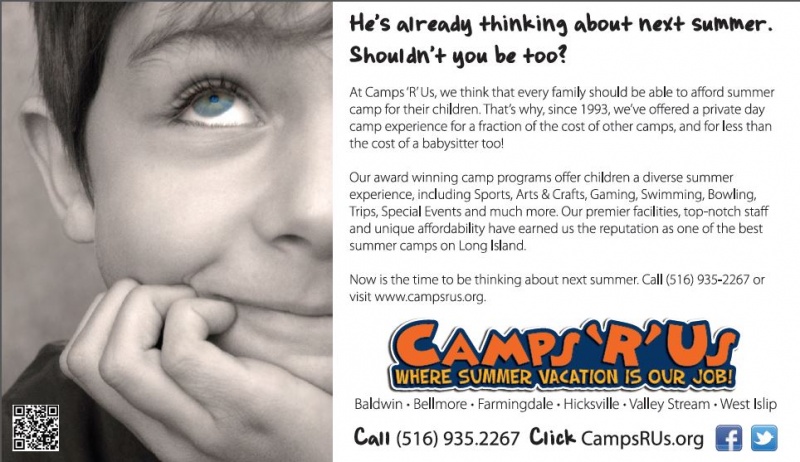 Want to learn more about this business? Send them a direct inquiry.
CAMPS-TRADITIONAL
At Camps 'R' Us, we provide families with the most safe, fun, and affordable summer day camp experience available. Our award-winning camp programs offer children ages 3-15 years, a diverse summer experience, including sports, arts and crafts, gaming, swimming, bowling, trips, special events, and much more. Our premier facilities, top-notch staff, and unique affordability have earned us the reputation as one of the best summer camps on Long Island.
Joanne Turnier, MS, RN and Gary Turnier, MS, Ed. founded Camps 'R' Us in 1993 with a simple mission: to provide working families with the finest summer day camp for their children, at the most affordable price. Today, Camps 'R' Us' award-winning camps are among the best summer camps on Long Island, built upon a community of thousands of children whose summer will be among their most treasured memories for their entire lives. To learn more about Gary and Joanne, please visit campsrus.org/about/history.
Read More About Camps 'R' Us
What's New in 2015 for NYMetroParents Clients
Many of your favorite NYMetroParents clients, from birthday party venues, to after-school classes, and dance schools have exciting things planned for the new year. Check out what's coming up in 2015 from top local businesses now.
School Vacation Camps in New York City, Long Island, and Connecticut
This winter break, find fun holiday camp activities for your kids while school is on vacation. We have school vacation camps in Rockland, Westchester, Long Island, Queens, Brooklyn, Manhattan, and even Fairfield County, CT. Start planning your child's winter holiday break with these fun holiday camps today.
Summer Activities in Suffolk County, Long Island
Look up great summer activities for kids in Suffolk County, Long Island. NYMetroParents' guide helps you find kids classes, Nassau County summer camps, summer programs, activities near Nassau County, and family excursions close by. Find all of your summer activities for kids in Northport, Dix Hills, Commack, Sayville, Cold Spring Harbor, and more in Suffolk County, Long Island.
Summer Camp Program Opens Farmingdale Location
The "most affordable" summer camp program on Long Island has plans to open its new location in Farmingdale in time for camp this summer. Hosted at St. Killian School, Camps 'R' Us is fully equipped with opportunities for indoor and outdoor activities.