Calm And Connected: Parenting Children with ADHD©
Parent Training and Support
Six 1-1/2 Hour Session Workshop Series

Gain Skills and Confidence to Help your Child
Parents of children with ADHD often feel isolated, unsure and misunderstood by other parents and family members. Get the support, education and tools you need in a safe, private setting.
This workshop explains how ADHD impacts children and teens beyond impulsivity, hyperactivity and inattentiveness and gives you the tools and strategies you need.
Practical Strategies – Targeted Support
Parent Training is recognized by the American Academy of Child and Adolescent Psychiatry as a crucial part of treatment for children with ADHD. Parenting instincts alone are often not always enough to keep daily life manageable and help your child succeed. It's not just about discipline – it's about creating a strong, loving bond and connection that establishes cooperation, mutual trust, and positive growth.
There is hope! Bring joy back into your relationship with your child.
Create calm and order in your home
Establish appropriate rules and expectations
Minimize power struggles, meltdowns, and angry outbursts over daily events
Help your child learn to manage frustration
Reduce homework stress for you and your child
Help your child capitalize on their strengths and increase their self-esteem
Experience the changes you can make once you know more.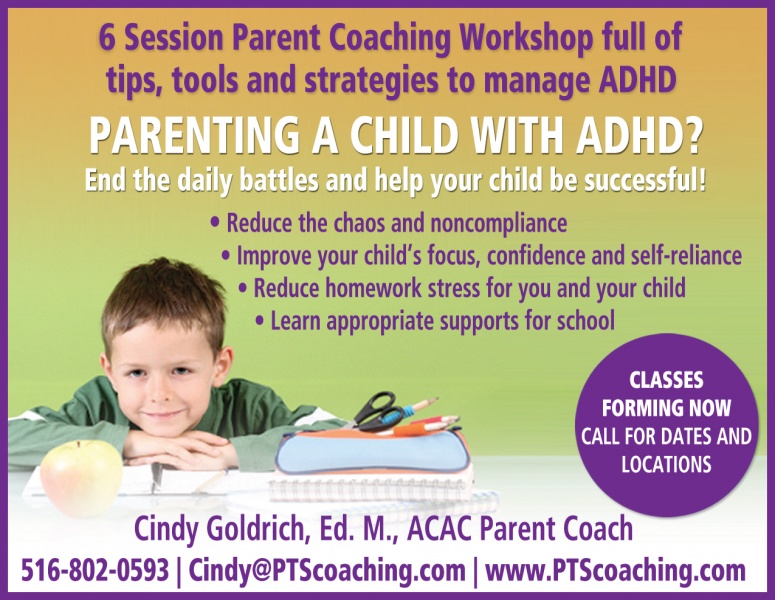 Want to learn more about this business? Send them a direct inquiry.
BACK TO SCHOOL
Cindy Goldrich, Ed.M., ACAC, is a Certified ADHD Parent Coach, working with families who struggle with ADHD, Executive Function issues, and the challenges of the teen years. Cindy conducts a seven-session ADHD Parent Coaching Workshop to help parents establish realistic rules and expectations, reduce homework stress, improve children's compliance, self-advocacy and communication skills. School support, staff development, and presentations for professionals and parent groups offered. Coaching available in person on Long Island and Manhattan or via telephone.
UPDATE YOUR MICROSITE