| | | |
| --- | --- | --- |
| | A Cure For The Common ER | |
Amityville Location: Massapequa Park Location*:
365 Broadway Southgate Shopping Center
Amityville, NY 4954 Merrick Road, Massapequa Park
631.841.4102 516.308.7255
*Late night pediatric hours till 11PM

A Sprain? Broken Bone?
Do you think you might need stitches?
A Cough? Sore Throat? The Flu? A Fever?
When you or your family need immediate treatment for an every day illness and injury, Visit ER-DOX.
The Emergency Room Alternative Without the Wait...
An alternative providing the highest quality care without the long wait. ER-DOX specializes in Urgent Medical Care offering the highest quality of immediate care, ease of walk in services and convenience. Our physicians are residency trained & Board Certified in Emergency Medicine.
ER-DOX offers a choice for those patients who are in need of medical attention and do not wish to wait long hours in crowded ER's for non life threatening ailments.

The vast majority of patients who seek medical attention in the ER are treated and released. Most of these evaluations and treatment can be performed in less critical arenas and for significantly less out of pocket cost for the patient.
We do not promote this office as a 24/7 facility with critical care support of hospital services. If you are experiencing chest pain in the middle of the night or a life threatening emergency, clearly, the hospital based emergency department is the right choice.
However, daily routine care of most injuries and illnesses may be sought here.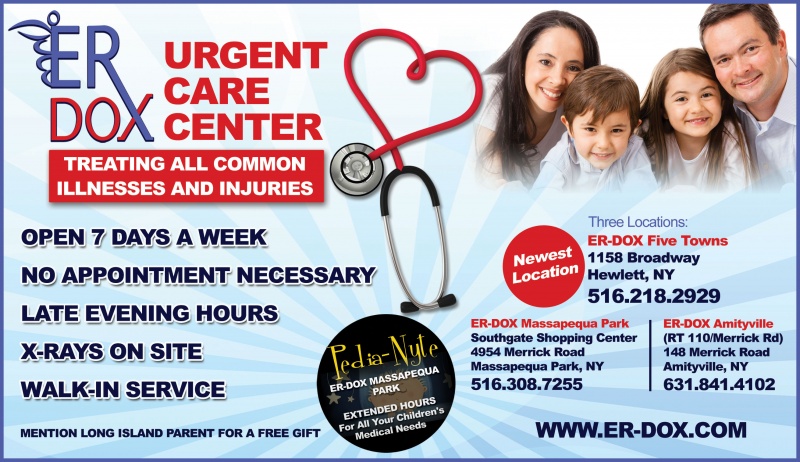 Want to learn more about this business? Send them a direct inquiry.
HEALTH
ER-DOX, Long Island's Urgent Care Center, provides quality and immediate medical care for all patients newborn to age 110! Open seven days a week, no appointment needed and X-rays on-site. Our doctors are board-certified emergency medicine physicians and pediatricians who treat colds, coughs, flu, broken bones, stitches, strains, abdominal pain, and more. ER-DOX is open from 9am-9pm at all locations, our Massapequa Park office is open until 11pm for late-night illnesses and injuries, and our Amityville location is open until 5pm on weekends. We are the exclusive late night urgent care on the South Shore.
Read More About ER-DOX
ER-DOX Opens Third Long Island Location
ER-DOX, an urgent care facility, recently opened its Hewlett-Five Towns location. The urgent care center is an emergency room alternative that can treat coughs, sore throats, injuries requiring stitches, and broken bones.