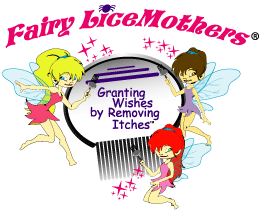 Fairy LiceMothers are dedicated to eliminating the persistent lice problem and educating the community on the use of safe and effective lice treatment methods.
We utilize the proven Shepherd Method™ for effective lice and nit removal without the use of chemicals or harmful pesticides.??
We offer a personalized, guaranteed safe & effective lice removal treatment that will ease the mind of families dealing with this devastating problem.
Screenings are $25 per person. All screenings are done using the MagicWand nit comb and MagicHalo Conditioner. Treatments are only performed if evidence of lice or nits are found.
All treatments come with 2 FREE follow up visits. Treatments are a FLAT FEE of $125 for buzzed hair types and $200 for all other hair types. The MagicWand nit comb, MagicHalo Shampoo and Conditioner must be purchased if client doesn't already own. There are NO hidden fees on treatments and all clients are educated on the real facts of lice.
Fairy LiceMothers was established in 2008. We are insured and certified. Fairy LiceMothers has two convenient storefront locations in Nassau and Suffolk to serve you better.
2463. S. Long Beach Road, Oceanside
1755 Deer Park Avenue, Deer Park
Locations are opened from 10:00AM – 6:00PM M-F, 10:00 – 2:00 Sat-Sun and by appointment. Master Card, Visa and Discover cards are accepted. May be covered under insurance and is covered under the FLEX Health Spending. www.FairyLiceMothers.com 866-561-0492
Want to learn more about this business? Send them a direct inquiry.
BACK TO SCHOOL
August through October are the busiest months for lice outbreaks. Kids who got lice this summer will spread it to classmates once school starts. If parents knew how to do a proper head-check, it would never be this bad. Early cases are easily avoided just by looking. A head-check must be done with a nit comb. Fairy LiceMothers recommends their MagicWand nit comb along with their MagicHalo Shampoo and Conditioner. Watch their comb-out video for assistance fairylicemothers.com/lice_treatment.html. Call Fairy LiceMothers any time for free advice at 866-561-0492.
Read More About Fairy LiceMothers
Summer Activities in Suffolk County, Long Island
Look up great summer activities for kids in Suffolk County, Long Island. NYMetroParents' guide helps you find kids classes, Nassau County summer camps, summer programs, activities near Nassau County, and family excursions close by. Find all of your summer activities for kids in Northport, Dix Hills, Commack, Sayville, Cold Spring Harbor, and more in Suffolk County, Long Island.
Ask the Expert: What Should I Know About Lice?
Local experts share what every parent needs to know about head lice, including signs your child might have lice, how often you should check for lice, what lice look like, when your child can be around peers, how much of your house needs to be cleaned, and whether lice carry diseases.
Ask the Expert: What are Ways to Cope with the Stigma of Lice?
If your child has lice, they might feel embarrassed. Local experts weigh in with what to say to your child so he can cope with the stigma of lice, as well as reasons why you shouldn't feel ashamed about him having lice.
Ask the Expert: What Are the Various Treatments to Get Rid of Lice?
When your child has lice, your main concern is removing the head lice. We spoke to six local experts from Licenders, LiceXchange, Lice Miracles, Fairy LiceMothers, The Lice Lady of Westchester, and The Lice Expert of Dobbs Ferry/Westchester about the various chemical-free head lice treatments they offer.