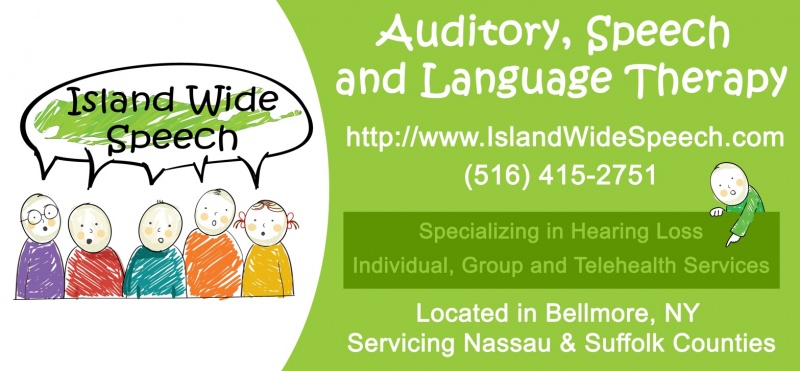 Island Wide Speech, founded by Fara Augustover M.A. CCC-SLP, is a speech-language pathology private practice located in Bellmore, NY. Auditory, speech and language therapy is provided on site, mobile in Nassau and Suffolk Counties and through telehealth. We offer a wide range of services that enable children and adults to maximize their full potential and become successful communicators at home, in school and in their community.

Island Wide Speech is committed to providing the best services available including individual and group treatment plans that emphasize family education to enhance auditory, speech and pragmatic, and language development in across contexts for the client. This family centered approach to treatment includes the caregiver being directly involved in the assessment, development, and implementation of goals and continued success.
Address: 2539 Martin Ave
Bellmore, NY 11710


Visit: www.islandwidespeech.com



Email: fara@islandwidespeech.com



Call: (516) 415-2751



Like: facebook.com/islandwidespeech



Follow: @IslndWideSpeech

Want to learn more about this business? Send them a direct inquiry.
SPECIAL PARENT - SERVING MULTIPLE DISABILITIES/OFFERING A VARIETY OF SERVICES
IWS is an auditory, speech, and language pathology private practice specializing in treating children with hearing loss, auditory processing disorders, and listening challenges. Our services enable children to maximize their full potential and become successful communicators. We offer individual/group therapy across infancy, toddlerhood, school-age, preteens, etc. We use a family-centered approach, including direct involvement with the caregiver. Schedule an appointment by phone or email fara@islandwidespeech.com. Check out our new book "Harmony Hears A Hoot" at harmonyhearsahoot.com!
Read More About Island Wide Speech
Island Wide Speech Develops Group Language Therapy Program
Island Wide Speech, an auditory, speech, and language center on Long Island, is developing its group therapy sessions to promote interaction and speech development.