When it comes to head lice eveyone is looking for miracles
Head lice can definitely be an itchy subject, even in today's day and age. It's true that, when it comes to head lice everyone is looking for miracles. Luckily, that is why Lice Miracles exists! These little bugs can sure make you feel lousy, but with the proper treatment and knowledge they are easy to defeat and by the time we leave your home it'll be a miracle if they find their way back to your head.
As a parent, the words "head lice" can really make your skin crawl. It's that one thing we are always aware of but hope will never happen to our child. Unfortunately, the reality is that at one time or another it will affect each of our lives.

Like so many other parents, we discovered head lice on our child and we had no idea what to do. We immediately hopped onto the internet and were astonished by the overwhelming amount of contradicting information. We ended our quest more confused than ever.

Thankfully my wife's hair stylist suggested that we take our daughter to a head lice treatment salon and within one day she was lice free. We were thrilled to be rid of those unwelcome guests but were left with an uneasy feeling. "If we were that frustrated- weren't other parents as well?" We knew we had to be a part of the solution and decided that the best way to help our community, was to open an in-home head lice service dedicated to providing accurate information and proper treatment techniques.

Now thanks to an intense training program at The Shepherd Institute for Lice Solutions, we are certified in the most recognized technique in the business. We are excited to be a part of the Shepherd Certified team and can't wait to help other families put an end to their head lice nightmares; by way of The Shepherd Method of Strand by Strand Nit Removal.

The staff of Lice Miracles is dedicated to providing your family with the most up-to-date information available, as well as safe and effective head lice treatments. And while we use only safe nontoxic products, we like to remind our parents that there are NO miracle products out there. The real secret is in knowing what you are looking for, having a method that is proven to be effective and communicating with those around you. When it comes to head lice everyone is looking for a miracle. Thanks to our dedication and intense training, miracles happen at LICE MIRACLES!
Special
15% Off Head Lice Products
$25.00 For In Home
Head Check Service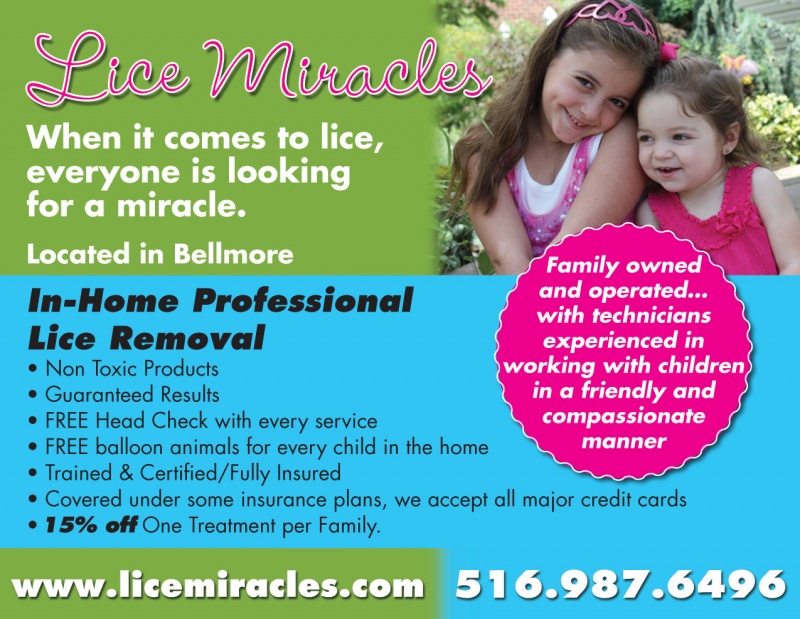 Want to learn more about this business? Send them a direct inquiry.
PROFESSIONAL SERVICES-MISC.
As parents, we know how important your daily schedule is. That's why Lice Miracles does in-home treatment service. Your child will be comfortable and less stressed while they are treated at home. Lice Miracles uses non-toxic, all natural products. Our staff is trained and certified in The Shepherd Method. Our technicians will go strand by strand to get rid of all the lice and nits. Within two hours you will be lice free and back to school or work.
Read More About Lice Miracles
Ask the Expert: What Should I Know About Lice?
Local experts share what every parent needs to know about head lice, including signs your child might have lice, how often you should check for lice, what lice look like, when your child can be around peers, how much of your house needs to be cleaned, and whether lice carry diseases.
Ask the Expert: What are Ways to Cope with the Stigma of Lice?
If your child has lice, they might feel embarrassed. Local experts weigh in with what to say to your child so he can cope with the stigma of lice, as well as reasons why you shouldn't feel ashamed about him having lice.
Ask the Expert: What Are the Various Treatments to Get Rid of Lice?
When your child has lice, your main concern is removing the head lice. We spoke to six local experts from Licenders, LiceXchange, Lice Miracles, Fairy LiceMothers, The Lice Lady of Westchester, and The Lice Expert of Dobbs Ferry/Westchester about the various chemical-free head lice treatments they offer.