It's time to take out the glitter, pastels, paint, pastels, and glue!!! Introducing, Long Island Arts & Crafts, a Premiere Arts & Crafts Program for children ages 4 a& up.
Beginning this fall, children will have the opportunity express themselves through art. They will learn to work with a wide variety of exciting mediums of art such as: paint and draw, mosaics, decoupage, fun with food, sculpture, collage and more. Children will learn the foundation of art in a fun, safe & nurturing environment. The goal is for each child to learn something new, get a little messy, & have a lot of fun!
Long Island Arts & Crafts is a fun filled program that utilizes creativity to instill confidence and self esteem within your child. Students will learn how to create intricate & detailed art, using basic skills that they already have. Each student will work at their own pace to construct creative & imaginative masterpieces!
Long Island Arts & Crafts offers creativity & fun for everyone! We keep the excitement going all year long with weekly classes, special events, holiday workshops, and birthday parties!

WEEKLY CLASSES
We offer weekly after school classes in Syosset located at Basketworks in the Syosset Plaza, address is 611 Jericho Turnpike
Classes available on Tuesdays and Wednesdays: call for schedule
Starting September 3rd and running through June 20th.
Affordable pricing & flexible payment options (includes all supplies & materials)
SPECIAL EVENTS:
Looking for activities when kids are out of school? Long Island Arts & Crafts offers special seasonal projects & holiday workshop events throughout the year!
Call to Reserve your spot at our Art Pizza pARTy on October 14th @ Marios in Plainview. From 11-12:30pm Children ages 5 and up Children will design a pizza box, make chocolate pizza, and enjoy a pizza party! The Cost is $35, including all supplies and pizza!
The Holidays are around the corner! Our Famous Holiday Gingerbread Workshop is coming soon! Call now to reserve your group's workshop! We are currently booking groups, schools, & camps, for their own private event! Your kids will decorate a gingerbread house with delicious icing & sugar coated candies, followed by a pizza party! The cost is $35 per person includes all supplies & pizza!
BIRTHDAY PARTIES:
Tired of the going to the same parties every weekend? LI Arts & Crafts throws amazing one of a kind birthday pARTies designed by you! Choose from a variety of projects: Rainbow Loom, Mosaics, Paint a Picture Design a Picture Frame, Candy Cottage. We work to make parties are special, fun, & affordable! Party Packages start at $200 per person.
CALL NOW TO COME CHECK OUT A FREE TRIAL OF CLASS, 516-500-1ART
For more information about Long Island Arts & Crafts, or to enroll: CALL (516)500-1ART or EMAIL:liartsandcrafts@gmail.com
Like our Facebook page to get information on upcoming special events and holiday workshops.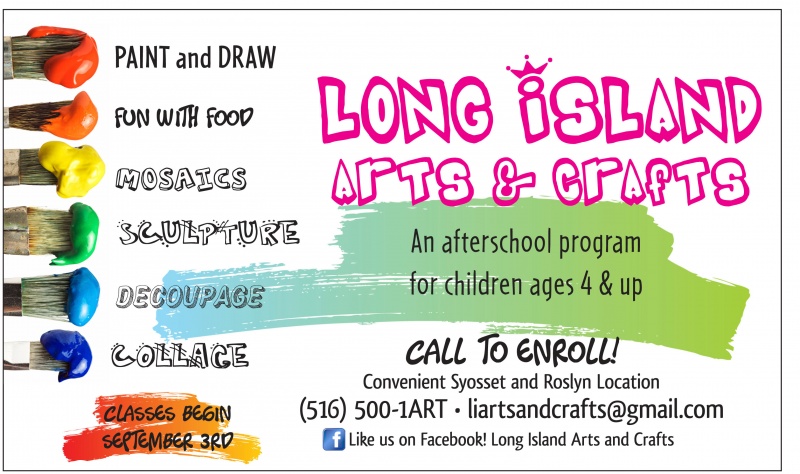 Want to learn more about this business? Send them a direct inquiry.
BACK TO SCHOOL
Introducing Long Island Arts & Crafts, a premier after-school program for children 4 and older. Students will learn something new, get messy, and have fun while working with exciting mediums—painting, drawing, collages, sculptures, decoupage, fun with food, mosaic, and more! Tuesdays and Wednesdays at our Syosset location: 3-3:45pm for pre-K, and 4:15-5:15pm for kindergarten and first-grade students; Thursdays at our Syosset location: 4:30-5:30pm sibling class for kindergarten through third-grade students. Roslyn location: Mondays from 3-3:45pm for pre-K, and 4:15-5:15pm for kindergarten and first-grade students. For more information, call 516-500-1ART (1278) or like us on Facebook.
Read More About Long Island Arts & Crafts
After-School Arts and Crafts Program Offered in Syosset
After-school arts program Long Island Arts and Crafts now offers is classes at Basketworks in Syosset. The after-school program aims to expose young children to art and the different mediums used to create art, including paint, mosaics, and collage.