M.A.T.S.S. Kids' Gym provides children with "A Rainbow of Programs" all under one roof to play, learn and grow.
Children ages 7 months through 12 years are welcome at M.A.T.S.S.
We offer Baby, Toddler and Separation classes (ages 7-30 months), which bridge development to an Early Childcare Edu­cation Program (ages 18 months-5 years) called "M.A.T.S.S. Gym School". Our GymSchool/Nursery Program is taught by NYS Certified Teachers and embraces current NYS Educational Standards.
Summer Day Camp, MADScience-Summer Enrichment Classes (Syosset Loc.) and Birthday Parties at M.A.T.S.S. offer your children a year-round outlet for learning, play and celebration.
M.A.T.S.S. has several "age" appropriate Gyms and outdoor Playgrounds.
Our dedicated and well trained staff hold several certifications including USA Gymnastics and CPR/ First Aid.
Our Syosset Center is a NYS OCFS Certified DayCare & Infant-Care Center and provides Early, After/Extended Care hours to further support working families.
Meet M.A.T.S.S. Kid's Gym & Early Childhood Education Centers Directors--
Nancy Wohlsen is the Director of our Syosset Location.
Nancy Clinton is the Director of our Bellmore Location.

Together as co-owners they manage our Rainbow of Programs for children 6 months to 12 years as well as evening and weekend programs for children and adults.

Nancy Wohlsen has a B.A. in Early Childhood Education Administration, a N.Y.S. Childhood Development Associate, NAEYC and U.S.A Gymnastics certifications.

Nancy Clinton has a B.S. in Psychology and Early Childhood and Family and M.S. in Early Childhood Education and Family.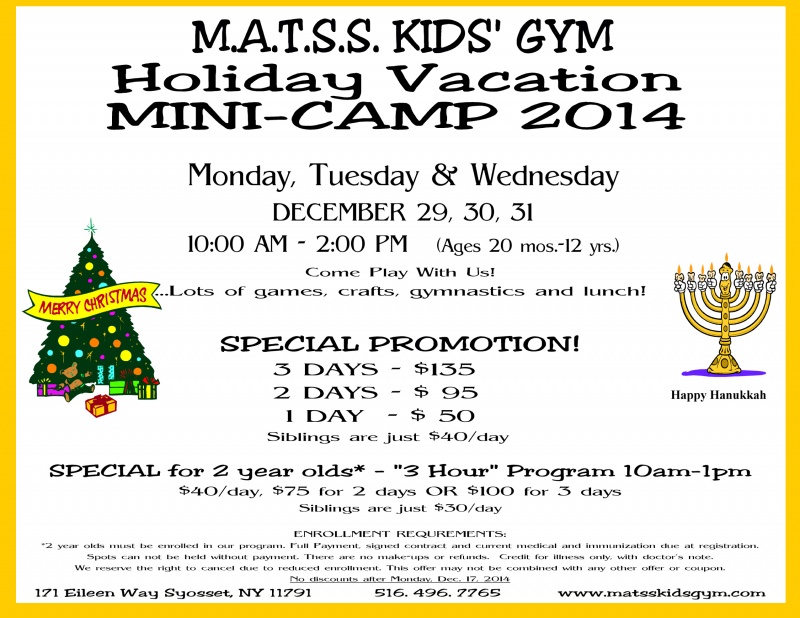 Want to learn more about this business? Send them a direct inquiry.
BIRTHDAY PARTIES
M.A.T.S.S. Kid's Gym and Early Childcare Education Center offers a rainbow of themes, games, favors, and activities that make your child's next birthday party at the ultimate weekend party place! From the music to the party games, each party is unique. Try an all-inclusive Beach Blast, Princess Tea Party, Super Heroes, Ooey-Gooey, Diva Done Right, and many more special theme parties. Choose a make-your-own sundae, face painting, or tattoos. We have characters, moon-bouncers, and so much more. Call our party consultant today and make an appointment to tour and book your child's party. We make it easy and fun!
Read More About M.A.T.S.S. Kid's Gym & Early Childcare Education Center
Music and Theater Programs Added to Local Kids' Gym
M.A.T.S.S. Kids' Gym now offers music and theater classes for children in Syosset. The music classes are offered by Long Island Aardvarks and the theater classes are offered by New Artist Theater, a division of The AMF Studio.
Gymnastics Classes and Programs on Long Island
A list of gymnastic classes, programs, and gymnasiums for children on Long Island, from Nassau County, including Syosset, Merrick, and Plainview, to Suffolk County, including Smithtown and Hauppauge.
M.A.T.S.S. Kids Gym Now Offers Dance School in Syosset
M.A.T.S.S. Kids Gym has partnered with Long Island Elite Ballet Company to bring a dance school to the gym. The new program is offered at the Syosset location as part of the summer program and will also be offered as part of their after-school program.