Dear Friends,
IIt is hard to fathom that it is 2011 and that this will be my 15th summer at Portledge Summer Adventures! Time does fly. Portledge Summer Adventures began 30 years ago on the campus of Portledge School and has been growing ever since. The Portledge School began in 1965, serves children in grades Pre-Nursery through 12 and is situated on 63 acres at the former Coffin Estate in Locust Valley, New York. The campus at Portledge offers your child a Summer Adventure at one of the most beautiful locations on the North Shore of Long Island. We offer fields, playgrounds, a nature preserve, and air-conditioned classrooms where your child will play, grow, and explore. Small class enrollment is a key to Portledge's philosophy and we maintain that philosophy in our summer programs.
Each year we strive to meet the needs of the many children who are a part of Portledge Summer Adventures with a philosophy of fun, nurturing, learning, and friendship. This summer we are looking to continue our focus on Early Childhood programs, non-competetive sports, the arts and fun learning programs such as Science Adventures, chess and computer activities. We also are embarking on greater off campus programs for older students; programs that will take them on daily off campus adventures with a different theme each week! A new CIT program will also bring your pre-teen a new adventure, learning how to work with young children in a classroom setting. Please remember, all of our programs are lead by certified teachers and coaches only bringing you the highest quality and safest experience for your children.
We thank you for your interest in Portledge Summer Adventures. We are sure you will be pleased with the many programs we have to offer and find a special Summer Adventure for your child. Come for a week, come for the summer. WE can't wait to see you!
Melissa Worth
Director of Summer Adventures
[email protected]
(516) 750 - 3104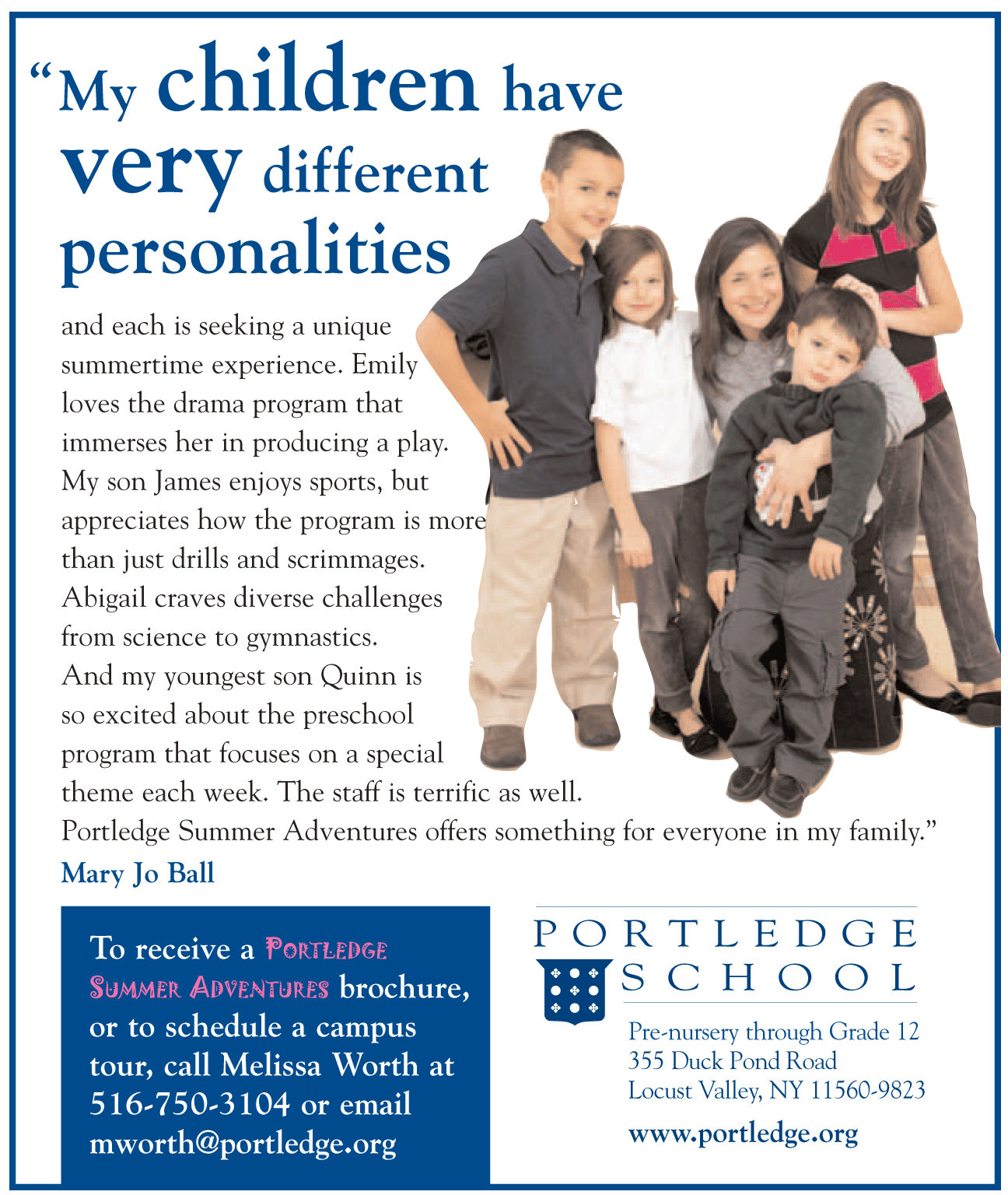 Want to learn more about this business? Send them a direct inquiry.
CAMPS
At Portledge Summer Adventures we offer a warm, personalized environment where your child will find a fun and enriching experience. With group sizes as small as five students your child will receive one on one attention and gain skills and confidence that a larger environment might not yield. Our experienced staff is comprised of certified teachers and coaches who bring expertise like none other. Activities for children ages two and up include various fine arts, painting, pondology, astronomy, survival skills, fencing, golf, basketball and girl's leadership, writing courses, and drama.