The cornerstone of our philosophy at Toddler Time is to provide a nurturing, safe and stimulating environment in which every child is encouraged to explore and discover at his/her own pace and ability.
Toddler Time a program of the Enrichment Center was established in 1996 and is licensed by the New York State Department of Family and Children Services.
Our facility in Seaford is a well designed, state of the art, child friendly building. Incorporated into the building are many rooms which encourage creativity and play.
Toddler Time provides a crative educational program in a safe and nurturing environment. Our exemplary staff utilizes an innovative developmental curriculum which provides the framework for our outstanding program. Each child is encouraged to explore and discover at his/her own pace and ability. Toddler Time's goal is to prepare each child for their future education while helping develop self-esteem and a lifetime love of learning.
Our early childhood developmental curriculum meets each child's individual needs. We believe that children learn best in an atmostphere which fosters creativity, exploration and a quest for knowledge. In addition to creating an environment that establishes the foundation for future cognitive learning we strive to create healthy, happy, social children. Toddler Time re-enforces positive social interactions and age appropriate play skills. Our qualified experienced staff makes learning fun while fostering competence in all skill areas.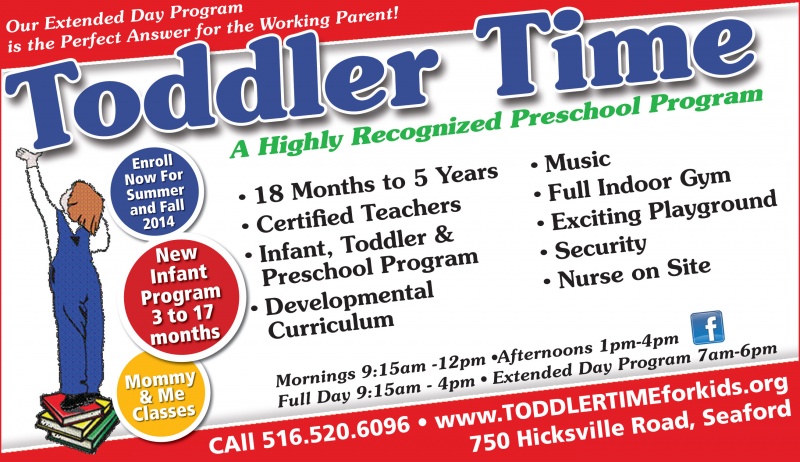 Want to learn more about this business? Send them a direct inquiry.
AFTER-SCHOOL
Toddler Time is a year-round preschool with an extended day care program. This program offers a safe environment, first class teaching, nurturing and certified staff, small child-to-teacher ratio, and nurse on-site. Programs consist of half-day, full-day, and extended hours from 7am-6pm. Teachers encourage social, emotional, and cognitive growth and promote self-confidence while learning. Children 18 months to 5 years can explore their unique talents in crafts, music, computers, and creative play. Toddler Time is the perfect choice for working parents. For more information and a tour, call 516-520-6096.
Read More About Toddler Time
Toddler Time's Program Expands to Include Infants
Toddler Time, a nursery school and extended care center in Seaford, now offers infant program for children as young as 3 months. The center encourages kids to learn and explore at their own pace and ability.