Welcome to Ultimate GaGa, the first indoor arena anywhere featuring the fast-paced, action-packed, game of elimination...GaGa! It has burst onto the camp scene and school playgrounds everywhere and has quickly become an obsession for those who play.
With over 20,000 square feet of space featuring 8 playing Pits, we provide the Ultimate experience, including 2 stadium Marquee Pits, along with a specially designed Junior Pit for our younger players. Our large party rooms, interactive arcade, and high-tech parents lounge make Ultimate GaGa the perfect destination for your next birthday party...or anytime you're looking for exciting action.
Ultimate 575

Come see why we've been called "the hottest new event space on Long Island!"
Ultimate 575, Long Island's newest and hottest party place is proud to offer you a state-of-the art facility for your next big Special Event. Our 23,000 Square feet of flexible warehouse space will tantalize your mind with possiblities as you plan your next Bar/Bat Mitzvah, Sweet Sixteen, Adult Birthday Party, Corporate Event, Communion, Charity Function, Holiday Party, High School Prom or Reunion. At Ultimate Gaga , options are endless, whether you're interested in doing a sports party," "Camp GAGA", a sleek "Club GAGA" lounge, or even a formal "UItimate" sit-down dinner affair, our Loft-style warehouse space will suit whatever your needs are. Let our quality staff and in-house party coordinators help you plan and design your magical event!
GAGA-on-the-GO:
Ultimate Gaga can bring GAGA pit, balls, referees, give-away prizes right to your school, carnival, Bar/Bat Mitzvah, Communion, private home, really anywhere!!
*Special discounts for schools and non-profit organizations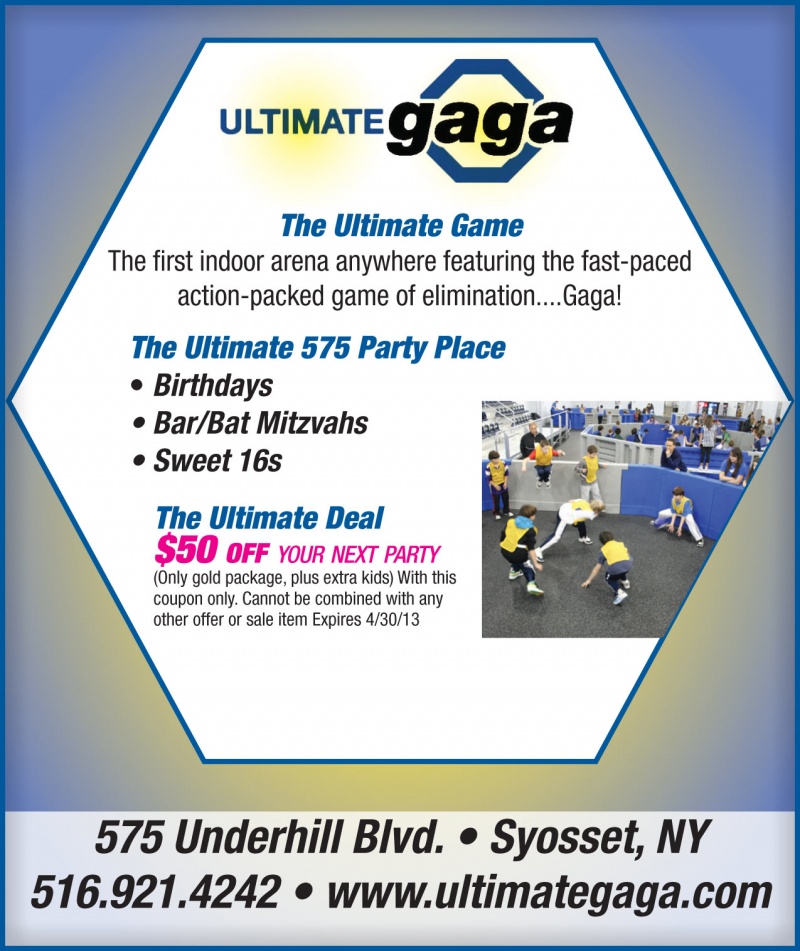 Want to learn more about this business? Send them a direct inquiry.
BIRTHDAY PARTIES
Looking for the perfect venue for your next birthday party, bar/bat mitzvah, or Sweet 16? Come check out Ultimate GaGa and Ultimate 575, the first indoor arena featuring the fast-paced, action-packed game of elimination. Our 20,000-square-foot facility, which also sports a basketball court and interactive arcade, offers an experience like no other for fans of this increasingly popular obsession. You will see why we are Long Island's new favorite birthday party destination as well as the "it" place all the kids are talking about!