The Vincent Smith School, located in Port Washington, is the premier independent school on Long Island, dedicated to serving the needs of students with Learning Disabilities (LD), such as ADD, ADHD, LD (Dyslexia/Dyscalculia/Dysgraphia), Nonverbal LD, Auditory Processing Disorder, and Expressive/Receptive Language Disorders in grades 3-12.
At Vincent Smith School we are committed to the belief that "It's Okay to Learn Differently"
with:
Differentiated Instruction
Small, Supportive Classes
Structured Environment
College/Career Counseling
Social Skills Training
Unique Social Cognition Program
Vincent Smith School is chartered by the New York State Board of Regents as an independent, nonprofit day school. The school is accredited by the New York State Association of Independent Schools.
The Vincent Smith School admits students of any race, color, national and ethnic origin to all the rights, privileges, programs and activities generally accorded or made available to students at the School. It does not discriminate on the basis of race, color, national and ethnic origin in administration of its educational policies.
http://www.vincentsmithschool.org/our-history.asp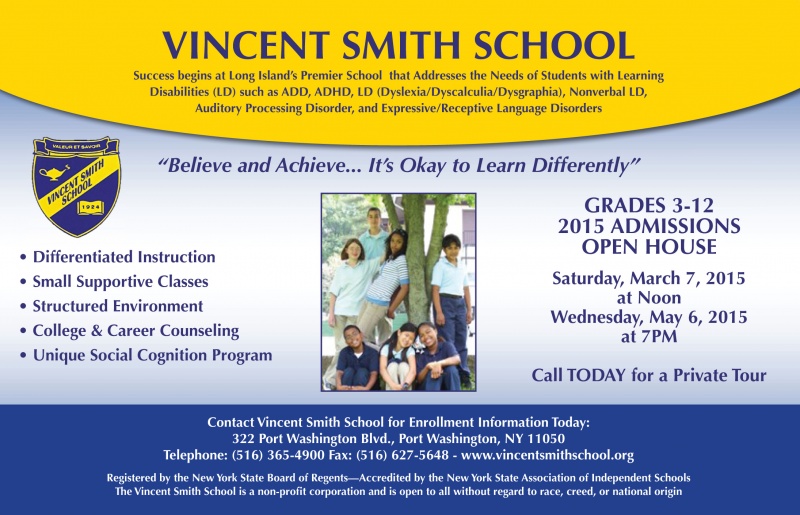 Want to learn more about this business? Send them a direct inquiry.
EDU - SPECIAL EDUCATION
The Vincent Smith School is a co-educational college preparatory day school for students with learning disabilities in grades 4-12. The mission of the Vincent Smith School is dedicated to providing a small, nurturing and supportive setting where, "It is Okay to Learn Differently". Through differentiated instruction, hands-on activities, and interdisciplinary instruction, students are provided with the necessary educational, emotional and social support necessary for success.
Read More About Vincent Smith School
Vincent Smith School Names John Baldi New Head of School
John Baldi has been named the new Head of School at Vincent Smith School in Port Washington on Long Island. Baldi takes over for Arlene Wishnew, who is retiring after 35 years in the position.