"Believe and Achieve…It's Okay to Learn Differently"
Port Washington, NY – The Vincent Smith School announced today that it is now offering full-time Grades 1, 2 and 3 to its current educational program. The School is the first 1-12 school in Nassau County, serving boys and girls with learning disabilities.
Located on four-and-a-half acres in suburban Port Washington, the Vincent Smith School is a private day school that has served students in Nassau, Suffolk, and Queens Counties in New York since 1924. The School is well-known for its individualized program for students with ADD, ADHD, and Learning Disabilities, such as Dyslexia, Dyscalculia, Dysgraphia, Non-Verbal Learning Disabilities, Auditory Processing Disorders and Language (Expressive/Receptive) Processing Disorders. Emphasis is placed on differentiated instruction, social-emotional learning through a customized "Team Building" program, and executive functioning skills. The self-contained Elementary program offers a multi-sensory experience that is centered on the development of early-childhood language and learning.
| | |
| --- | --- |
| | |
The primary focus of first grade is building a strong language arts and math skills foundation for future learning. Hands-on activities are utilized wherever possible. Worksheets and workbooks compliment the curriculum with the opportunity to practice and master educational skills. In second grade the primary goal is to develop in our students a higher level of independence as learners. Additional emphasis is put on personal responsibility for remembering to complete work and use time in the classroom wisely. Independent reading and a higher level of writing skills are the foundations on which growth is built. As our students progress to the third grade, independent learning is encouraged. A high emphasis is placed on developing a sense of responsibility for both themselves and the academic expectations of the teacher. Organizational skills are taught and reinforced regularly. Sensitivity to the feelings and needs of others in the classroom is fostered with the expectation of appropriate behavior as well.
"The Board of Trustees, parents, Administrators and faculty are excited that the School is expanding its educational program to include grades 1-3. Our differentiated academic program, set amidst a spectacular campus, affords our students with learning disabilities the opportunities to learn and grow, explore and achieve in a unique environment that focuses entirely on the student and the challenges they face as they learn. At the Vincent Smith School, we believe "It's Okay to Learn Differently." Eighty-five (85%) percent of our students go on to 2 and 4 year colleges while others attend technical programs, vocational programs and go on to have successful careers," said John Baldi, Head of School.
The School is having an Admissions Open House on Saturday, March 7, 2015 beginning at noon. The Admissions Open House tour will begin with an overview of the School that will be conducted by Admissions, faculty, Administrators, parents and students. During the tour, representatives will discuss the School's dynamic academic curriculum as well as its extraordinary socialization and team building programs. The School balances a nurturing, safe and exciting learning environment with high standards and expectations. Included in the Admissions Open house will be a tour of the beautiful campus conducted by student "ambassadors" and their parents. Interested families can register to attend by visiting www.vincentsmithschool.org.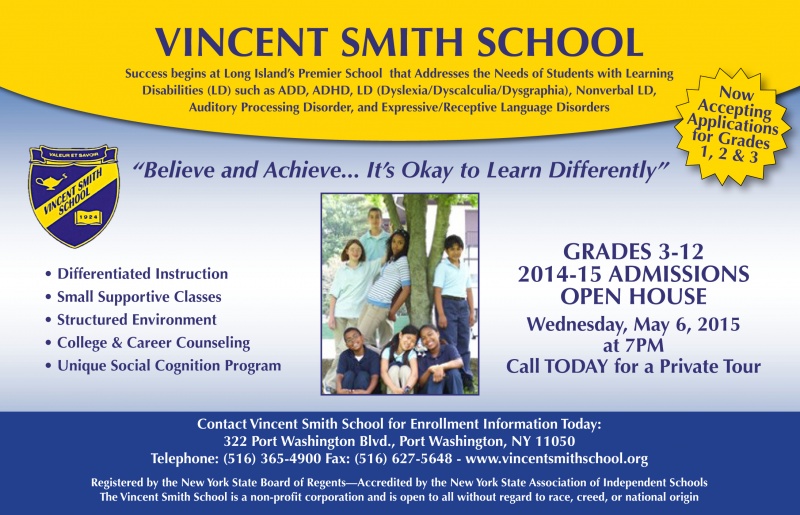 Want to learn more about this business? Send them a direct inquiry.
EDU - SPECIAL EDUCATION
The Vincent Smith School is a coeducational day school for students with learning disabilities in first-12th grades. The mission of the Vincent Smith School is dedicated to providing a small, supportive setting where we "Believe and Achieve…It is Okay to Learn Differently." Through differentiated instruction, hands–on activities, and interdisciplinary instruction, students are provided with the necessary educational, emotional, and social support necessary for success.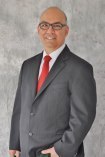 The Vincent Smith School Board of Trustees recently announced the appointment of Mr. John Baldi as the new Head of School. Mr. Baldi was formerly the Director of Finance at the Kew-Forest School, an independent school serving grades pre-Kindergarten-12 in Queens. He is currently pursuing and completing his Doctoral degree at St. John's University in Instructional Leadership. His research and dissertation involves the effect of introducing science, technology, engineering, and math (STEM) education to middle school students. The Vincent Smith School is a private day school for students with learning disabilities in grades 1-12.
Read More About Vincent Smith School
Vincent Smith School Names John Baldi New Head of School
John Baldi has been named the new Head of School at Vincent Smith School in Port Washington on Long Island. Baldi takes over for Arlene Wishnew, who is retiring after 35 years in the position.