---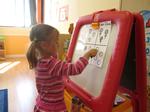 Bensonhurst Montessori Preschool is 'A Home Away From Home'
by Kara Faulk - October 15, 2012

IP Kids recently opened its IP Montessori Preschool in Bensonhurst. The new preschool combines Montessori principles with a focus on interactive, hands-on methods that allow children to become independent at an early age.
---
---
Meet the Intern: Kara Faulk
by Kara Faulk - September 28, 2012

Get to know Kara Faulk, one of NYMetroParents' fall 2012 editorial interns.
---

Harry Potter and the Times Square Exhibit
by Kara Faulk - November 01, 2012

Harry Potter: The Exhibition returns to NYC's Times Square for a five-month run, featuring first-round favorites such as the Sorting Hat and Hogwarts' Great Hall as well as many new artifacts from the iconic films.
---