Back to Author Page...
DANIELLE SULLIVAN is the Managing Editor of NYMetroParents,an essayist and fiction writer, and a big Dave Matthews fan. She lives with her husband and children in Brooklyn, New York. Visit her at www.Danielle-Sullivan.com.
Email Danielle Sullivan
---
---
---
---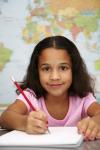 Homework Help for Kids (and parents, too!)
by Danielle Sullivan - September 13, 2007

In an effort to help city kids get their homework done on their own and correctly, the New York Public Library has created a site, www.homeworkNYC.org, which offers academic assistance to students in grades Kindergarten through 12.
---
---

Top Billing: Singing for Soup!
by Danielle Sullivan - March 09, 2006

You don't just go through 47 years without learning a thing or two … and it's evident that the Paper Bag Players have crammed a whole lot of expertise into their almost five decades of performing live children's theater.
---

Hometown Hero with a Heart: Brooklyn's Louie Miranda
by Danielle Sullivan - August 17, 2009

There's an oddly memorable feeling most folks have who were born and bred in Brooklyn; it's an ingrained love for the borough and its people . . . and we never quite lose that cherished part of us, the part that grew up sitting on stoops on sweltering summer nights and riding bicycles up and down the paved streets with the neighborhood kids.
---
Entering a Seussian World
by Danielle Sullivan - July 21, 2004

Of the many marvels of the work of Dr. Seuss, the ability to exist in a kid-oriented imaginary universe is one that surely will always attract scores of readers. Who hasn't wondered what it would really be like to live in a Seussian world, where anything can happen and earth rules do not apply? Beginning July 2, visitors to the Children's Museum of Manhattan (CMOM) can experience a part of that world with an innovative exhibit celebrating the 100th anniversary of the Dr. Seuss enterprises.
---
The Pharmacy for Families
by Danielle Sullivan - July 21, 2004

After a fitful night of sleep with your ailing child, you finally emerge from the doctor's office with intentions of heading home. But then you remember you still have to haul yourself to the pharmacy to get your child's prescription filled.
---
How to Find Childcare in NYC
by Danielle Sullivan - May 22, 2010

Securing safe and loving childcare is one of the most complex jobs a parent can face. The choice of how your child will spend the day when you cannot be there is a personal one that must be tailored to the individual needs of each family.
---
All Moms Need Support! says artist who draws joy from hardship
by Danielle Sullivan - January 22, 2008

At 17, Katherine Arnoldi found herself without a job, without a home, and without much self-esteem. What she had, however, was an infant daughter to raise and support who would change her world in more ways than she could have imagined.
---
Family Movies in Unexpected Places
by Danielle Sullivan - April 21, 2004

As Brooklyn parents know, choices for taking your kids to the movies can often be limiting. Frequently, the same one or two popular kids' films are shown at all the local theaters. Worse than that, the cost of one adult ticket and two children's seats will run you about 20 bucks. And that's before popcorn and soda! If there were other options at affordable prices, catching a flick might be a more enjoyable experience. Well, read on. Below is a list of places to see movies that you might not have heard of, guaranteed to spark your child's mind and creativity without emptying your pockets.
---
Northern Exposure: Family Activities at Wave Hill
by Danielle Sullivan - April 21, 2003

Non-New Yorkers may not believe that large grasslands of culture lie within the confines of the concrete Bronx. Native New Yorkers as well might be surprised to hear that over 28 acres of beautiful grounds have served as an educational and learning opportunity for its visitors since 1965.
---