---
---
Moments of Meaning During the Holiday Rush
by Dr. Susan Bartell - November 16, 2009

I admit it. I love the holiday season, which seems to be getting longer each year. I love it all! But what I don't like is that all the material aspects of 'the season' are making it more difficult for me — and you — to instill in our children a deeper, more spiritual feeling connected to whichever holiday we observe
---
Kids and the Flu
by Dr. Susan Bartell - November 13, 2008

Sick children should stay at home and not spread germs in school.
---
---

Lessons in Lunch
by Dr. Susan Bartell - September 10, 2008

Making school lunch for my three kids was always the biggest drudge of my week. Then about three years ago, it occurred to us that at 7, 9 and 11 years old, our children were capable of making their own lunches. We were free!
---
How to Handle Boredom: Beat the Summer Blues
by Dr. Susan Bartell - June 25, 2008

I've taken an informal poll and discovered that the words "I'm bored" exasperate parents more than any others uttered by their children. More than cursing; more than whining; more than bickering with siblings.
---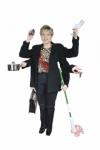 Superheroes: A Teachable Moment
by Dr. Susan Bartell - May 28, 2008

Are you a superhero? You probably are because parents work hard and sacrifice to give their kids a better life. If your children don't know you are a superhero, it's time to teach them.
---