---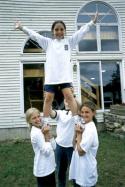 Summer Camp 2006: Off To Camp! The fun, the packing … the fear of homesickness
by Judy Antell - May 31, 2006

Your child leaves for camp in just a few weeks. Veteran or first-timer, rituals are an important part of the getting-ready process. When mine leave for camp, one has to choose a special meal one night, and the other on another night. Though their camp has a bus, we drove the first year, and it has been so ever since.
---
In the Kitchen with Kurihara
by Judy Antell - May 31, 2006

Busy families often order takeout, and Asian food is one of the most popular choices.
---
Top Billing: Big Adventure for Small Fry
by Judy Antell - May 31, 2006

One thing the big red apple needs is a big red dog. The Children's Museum of Manhattan (CMOM) has obliged with Adventures with Clifford The Big Red Dog, their new exhibit. The show features a 9-foot-tall Clifford complete with a tail slide, and all the locations familiar to readers of the Clifford books: Birdwell Island's library, post office and huge dog house.
---
Family Travel: Vermont for all seasons
by Judy Antell - May 02, 2006

Going to Vermont in winter is a no-brainer – lots of snow and skiing options. Summer also has its charms, with plenty of bike paths and lakes. In fall, you can't beat the foliage. Spring is often dismissed, but a recent spring ski trip to Stowe revealed why this area is truly a four-season destination.
---

Those (Boy) Crazy Teenage Years
by Judy Antell - May 02, 2006

According to a recent article in the Daily News, 40 percent of teens lose their virginity by age 14.
---
Spritz Away!
by Judy Antell - May 02, 2006

The phrase, "Necessity is the mother of invention" certainly holds true for one Rockland County mother. Aggrieved when her second child had skin problems as a baby, Mindy Cohen created a hypoallergenic spray to relieve his symptoms.
---
Who let the dogs in!
by Judy Antell - March 31, 2006

Almost any collection of children's books includes a few by William Wegman.
---
---
---
Sarah. Short and Sweet
by Judy Antell - March 31, 2006

When some shows are called formulaic, that's usually an insult. But in children's theater, adhering to a formula can be positive.
---
---
Top Billing: Chaos for Kids
by Judy Antell - March 31, 2006

Many kids like the idea of blowing things up. In the Hayden Planetarium's new space show, Cosmic Collisions, explosions are the name of the game.
---
---
---

Success at work, struggles at home: DANA BUCHMAN shares her daughter's story
by Judy Antell - March 09, 2006

It is a common lament of parents: To wish you knew then what you know now. Perspective is a seductive gift. But few parents do what Dana Buchman did, which was to write a no-holds-barred book about her experience in A Special Education: One Family's Journey Through the Maze of Learning Disabilities.
---
Desperate housewives the norm?
by Judy Antell - March 09, 2006

Ok, so who are we going to believe? Women cheat as much as men do, and it's actually harder for a woman to stay in a monogamous relationship, says Michelle Langley, author of the new book, Women's Infidelity: Living in Limbo: What Women Really Mean When They Say, "I'm Not Happy".
---

Outings: Take Me to the River!
by Judy Antell - March 09, 2006

Here's a new kind of outing to delight city kids, and visiting out-of-towners — New York City Audubon has just launched Eco-cruises in the waters of the Big Apple.
---
The Things About Reiser
by Judy Antell - September 21, 2005

Paul Reiser wrote and stars in The Thing About My Folks, a new feature film which opens September 16. But more importantly, he has mined his life to create a rich family portrait that resonates with families everywhere, not just those in the New York Jewish milieu in which he is intimate.
---
Stop Your Crying!Local moms on call, calming the nurseries of New York City
by Judy Antell - July 21, 2005

There are courses on natural childbirth, infant massage, behavior modification. Now, Big Apple parents can take classes on how to calm a fussy baby. Fussy Baby Support Services (FBSS), developed with clinical support from The Fussy Baby Clinic at Denver Children's Hospital and inspired by the Fussy Baby Network at Erikson in Chicago, is run by two Brooklyn-based moms, Stacey Cermak and Claire Pemrick.
---
DINOSAURS A New Look at Old Creatures
by Judy Antell - June 21, 2005

Many people are fascinated by dinosaurs, perhaps because they have never been seen by humans. The new exhibit at the American Museum of Natural History, "Dinosaurs: Ancient Fossils, New Discoveries", offers a striking new perspective on these extinct creatures, certain to appeal to all ages.
---
For a Writer, a Novel Service Combo
by Judy Antell - March 21, 2005

Elizabeth Kaiden hoped for the ideal work environment before her children were born. The Upper West Sider was a freelance writer and film critic, but found she could not work at home, nor could she commit to the kind of childcare options that freelancers require. Thus, her new career — founding and serving as executive director of Two Rooms, a non-profit facility in her very neighborhood, designed to serve the needs of freelance workers who are parents.
---
$20,000 for admissions advice?Ivy Aims for Facts & Fiction
by Judy Antell - February 21, 2005

If you've been through any school application process with your children — nursery, kindergarten, high school, private or public — The Ivy Chronicles (Viking, 23.95) will resonate. First-time novelist Karen Quinn has turned her experiences as a kindergarten admissions advisor in Manhattan into thinly veiled, and very funny, fiction. If you enjoyed The Nanny Diaries or The Devil Wears Prada, you will appreciate the satire; The Ivy Chronicles skewers the same social milieu, and addresses the anxieties many parents in the city face.
---
Victory for the Vikings!
by Judy Antell - October 21, 2004

When you see adults attending a kids' show without a child in tow, you have to figure they are friends of the cast. But when those adults are genuinely applauding and laughing along with the kids in the audience, you know this is not your standard kids' fare.
---
Viva Lady Liberty
by Judy Antell - September 21, 2004

After a multi-million dollar renovation, the Statue has reopened to visitors, but now the highest you can get inside is the top of the base.
---
Everyone in the Water! Summer camps in fall for the whole family
by Judy Antell - September 21, 2004

If you went to camp as a kid and long to recreate the experience with your own family — or if you never had the opportunity to go to camp while growing up, but want to try it now — you can take advantage of camp programs in Pennsylvania and Connecticut, which continue their programs into the fall.
---