---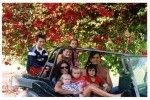 Seven is Sufficient - Family Size and Manhattan Real Estate
by Judy Antell - January 28, 2009

Family size in Manhattan is often determined by real estate. A small two-bedroom may limit you to one child, but for Cortney Novogratz, who has six children and a seventh child on the way, the logistics are staggering.
---
Green and Noteworthy
by Judy Antell - December 11, 2008

The eco-conscious among us are looking for products with healthier and safer ingredients.
---
In Our Communities - Westchester
by Judy Antell - December 03, 2008

There is a lot going on in the Westchester, New York community involving children. Ten Westchester high school seniors received the Westchester County Youth Board's Youth Recognition Award at a special dinner. Additionally, at the County Center in White Plains, over 500 middle and high school African-American and Hispanic students were encouraged to reach for the stars at Rx for Success: Dare to be a Doctor.
---
Safe Homes
by Judy Antell - December 03, 2008

Holly Robinson Peete, daughter of the Street's Gordon, is carrying on Sesame Street's educational mission. Along with raising her kids and pursuing an acting career, Peete finds time to teach children and parents about fire safety. Listed are Holly's Holiday Fire Safety Tips for families, parents and children to follow.
---
Slope-side Deals
by Judy Antell - November 24, 2008

Skiing is not a bargain sport for you and your family to partake in, but there are some good deals. Taking your family there early or late in the winter season is usually a good bet pricewise. If you get some time off midweek in a non-holiday period, there are many options. Check out these offerings in New York, Connecticut, New Jersey, Pennsylvania, Colorado, Utah, Vermont and Canada.
---
Where to Stay in Cancun
by Judy Antell - November 10, 2008

There are low-cost places for spring breakers, adult-only sanctuaries for those without kids, and incredible choices for families.
---
Children with Food Allergies
by Judy Antell - November 04, 2008

There are many ways that parents can prepare food choices that are thoughtful of kids with allergies while also still being healthy and delicious.
---
Products for Kids
by Judy Antell - October 30, 2008

New and noteworthy products for children.
---
---
The Intrepid Reopens
by Judy Antell - October 16, 2008

The Intrepid Sea, Air & Space Museum is back home at Pier 86, with a completely new interior and entirely new exhibits.
---
Two at One
by Judy Antell - September 24, 2008

Two different parent rockers return this fall.
---
Technology
by Judy Antell - September 22, 2008

Take a look at some new products to get a leg up on the latest technology.
---
Points and Rewards
by Judy Antell - September 15, 2008

You may have gotten through the toddler years without tantrums, but sometimes when a child becomes an adolescent, she refuses to comply with house rules.
---
Stay in Shape Like the Pros
by Judy Antell - September 10, 2008

With the U.S. Open underway in New York, we spoke to two former tennis players who are now moms. These two chic moms know how to stay in shape and look good while doing it! Here they share their advice.
---

How to Avoid a Bad Birthday Party
by Judy Antell - July 16, 2008

Whether it's an over-stimulated toddler, a jealous party guest or a horrified mom (just look at my couch!), there are many ways to ruin a party. But there are so many ways to throw a great party that you can minimize the horrors. Here are some suggestions to avoid common pitfalls...
---
Murakami's World
by Judy Antell - July 09, 2008

Recently I was a bit surprised – and very pleased – when my 10-year-old daughter, Nora, announced that she had to see ©MURAKAMI.
---
Boston – Where the Fur Flies
by Judy Antell - July 02, 2008

Boston offers something for everyone, and is not only kid-friendly, but pet-friendly, too!
---

In the Pink
by Judy Antell - July 02, 2008

Once you've seen a Broadway show, maybe bought the souvenir program and cast CD, your involvement ends. But "Legally Blonde: The Musical" is changing the rules. The show has a special Elle's Lounge VIP Experience that makes going to the theater a deluxe event.
---
Everything Horse
by Judy Antell - June 03, 2008

My 10-year-old daughter had been eagerly anticipating the opening of The Horse at the American Museum of Natural History. So, apparently, was the entire population of the city.
---
A Moving Business: From the City to the 'Burbs
by Judy Antell - May 28, 2008

Three years ago, Alison Bernstein gave birth to her first child and her first business idea, a real estate company that would help families looking to leave the city for the surrounding 'burbs. Now, three kids (with a fourth on the way) later, Suburban Jungle Realty Group, her newly launched real estate firm, focuses on families who are considering moving to Westchester, New Jersey, Long Island and Connecticut.
---
When a Child Needs a Special Diet
by Judy Antell - May 06, 2008

Imagine you are an excellent cook – and the editor of a food magazine to boot – but your child is allergic to everything you make. Silvana Nardone's 11-year old son, Isaiah, developed food allergies last fall, and must avoid wheat, dairy, eggs, soy & peanuts.
---
Tales and Tips from Type A Moms
by Judy Antell - April 30, 2008

In 2007, Beth Feldman and Yvette Manessis Corporan self-published their hilarious mommy memoir, Peeing in Peace: Tales & Tips for Type A Moms.
---

New Programs at Old Stone House in Park Slope
by Judy Antell - April 16, 2008

For many years, the Old Stone House (OSH) had been that small house at the back of a somewhat scary park. But in just a few years, OSH has spearheaded a variety of programs that have become neighborhood staples.
---
New Business Blooms in Manhattan
by Judy Antell - April 09, 2008

Alden Leigh Rosen and partner Yael Denbo launched their personalized baby planning service -- inBloom -- to offer New Yorkers access to the fruits of their research.
---
---