---

Breezing through Puerto Plata
by Judy Antell - March 25, 2008

On a recent trip to the Dominican Republic, we signed up for an ATV tour and the guide said my teens, 14 and 16, could drive. They learned basic hand signals and in no time were barreling through mud puddles and across the beach. The ATV tour was the highlight of our week in Puerto Plata, since it also took us into the lush countryside that dominates this part of the country.
---
Good grief! Greenwood?
by Judy Antell - March 05, 2008

A cemetery may seem an unlikely destination for a family outing, but Green-Wood Cemetery was once the second most popular tourist attraction in all of New York City.
---

Kids on the Court: Tennis in Flushing
by Judy Antell - March 03, 2008

A new program has been under development in select cities around the country including USTA Billie Jean King National Tennis Center in Flushing and launches nationally this month. QuickStart Tennis, designed for ages 5-10, aims to develop skills by playing, not drilling.
---

Into the Wild
by Judy Antell - March 03, 2008

With a past in travelling, Manhattanite Kourosh Mahboubian, a father of three, recently pioneered an adventure club for children, Wild Blue, which is headquartered on the Upper East Side.
---
Disney Walks on Water
by Judy Antell - February 26, 2008

The Broadway version should please both fanatical devotees of the animated version and neophytes.
---
Dine and Date
by Judy Antell - February 26, 2008

New service takes care of the kids — and mom and dad
---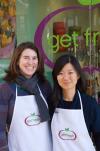 As Fresh As It Gets
by Judy Antell - February 05, 2008

Getting fresh, the parent's lament, has taken on a whole new meaning in Park Slope. Two local women have just opened Get Fresh, a take-out shop with prepared food that you finish cooking at home.
---
---
---
---
Summing Up
by Judy Antell - January 16, 2008

11 of the 20 finalists were girls, with girls outnumbering boys for the first time as finalists. Coincidentally, K'Nex, the toy construction system, announced the winners of its building competition. All 10 finalists were boys. Despite the heartening Siemens Competition result, I don't know why it's so difficult to interest girls in math and science.
---
New Diabetes Center Opens at Beth Israel
by Judy Antell - January 16, 2008

In response to the increasing incidence of diabetes among New Yorkers, Beth Israel Medical Center has opened a state-of-the-art facility, the Gerald J. Friedman Diabetes Institute. Services at the brand new facility include nutritional counseling, a pediatric program, and community outreach to all five boroughs to aim at stemming the increase in the diabetes rate.
---

St. Kitts with Kids: Sun, fun, and now — a direct flight
by Judy Antell - January 16, 2008

Traveling off the beaten path with kids can involve multiple flights and multiple headaches — like language barriers and lack of kid-friendly amenities. But St. Kitts is uniquely in a sweet spot — American Airlines just started non-stop flights to the eastern Caribbean island, which still has no traffic lights.
---
Sitcom Mom with Kids Who Care
by Judy Antell - January 14, 2008

Hollywood mom Joely Fisher could probably take her daughters to New York City any time she's not shooting her sitcom, 'Til Death. But she chose to bring her family with her to New York recently to celebrate the launch of a partnership between Kids Care Clubs and Quaker.
---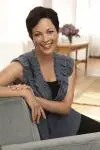 Have Some More (of the good stuff): Eating Healthy
by Judy Antell - January 10, 2008

Ellie Krieger, an Upper West Side mom and Food Network host, recently took the Just One More for Healthy Living pledge. As a registered dietitian and author of Small Changes, Big Results: A 12-Week Action Plan to a Better Life (Three Rivers Press), she pledged to add 'just one more' daily serving of fruits and vegetables to her family's meals.
---
Jen's New Role
by Judy Antell - January 08, 2008

Jennifer Garner has starred on screens big and small, and is set to make her Broadway debut (a strike set that back a little). But her most important starring role may be that of national spokesperson for The Faces of Influenza campaign.
---
---
---

Mama Knows
by Judy Antell - January 03, 2008

When Andi Silverman was a new mom and had questions about breastfeeding, she couldn't find a 'user-friendly' book. The reference manuals she consulted didn't offer her the tips and information she wanted to have right at hand. So, as a journalist, she set about finding the answers. The result is the new book, Mama Knows Breast: A Beginner's Guide to Breastfeeding (
---

Life After Tragedy
by Judy Antell - January 03, 2008

When Alissa Torres was seven-and-a-half months pregnant, her husband, Eddie, started a new job at the World Trade Center. His second, and final, day was September 11, 2001. Widowed, Torres went on to give birth to the couple's son, Joshua.
---

Music Camp Open Call
by Judy Antell - January 02, 2008

Since 1999, Manhattan School of Music has been offering a special Summer Music Camp for New York City public school students. Admission is by auditions, which begin this month.
---

A Time for a Great Cause
by Judy Antell - December 06, 2007

If A Time for Children were just a new kids' store, a writer would describe the enticing mix of items for babies, kids and moms. But owner Margie Stern has done something so extraordinary, no amount of hyperbole is sufficient.
---

Tech Toys and Gifts
by Judy Antell - December 06, 2007

Check out technology's new gadgets and toys!
---

Water Everywhere: An American Museum of Natural History Exhibit
by Judy Antell - December 05, 2007

You enter the Water exhibit through a 'wall' of water mist, with a projection of the word "water" in different languages. The exhibit makes clear that water consumption affects people across borders, so this international display of words stresses its universal concern. But for little kids, it's just cool.
---

Keri Gives it a Shot
by Judy Antell - December 05, 2007

Actress and new mom Keri Russell took steps to ensure her son, River Russell Dreary, would stay healthy by getting herself vaccinated for pertussis. Russell, whose new movie, "August Rush", was just released, is a spokesperson for Parents of Kids with Infectious Diseases (PKIDS) and its campaign, "Silence the Sounds of Pertussis".
---