---
---

FreshDirect Extends FreshArt Contest Deadline to June 15
by Kaitlin Ahern - April 27, 2011

To celebrate the launch of FreshDirect's KidPower™, a new line of freshly prepared kids meals, the company has teamed up with the Children's Museum of the Arts (CMA) to present the FreshArt initiative, which invites students in grades three through six to create works of art that show what it means to share a meal with family.
---
---

Drive4Rebecca Completes Cross-Country Advocacy Tour
by Kaitlin Ahern - April 25, 2011

On April 16, Jon Singer and his daughter Rebecca, along with friends and family, set out on a 3,500-mile cross-country trek from New York to California to raise money and awareness for special needs advocacy.
---
---
---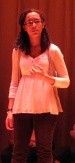 3rd Annual NYC August Wilson Monologue Competiton Winners Announced
by Kaitlin Ahern - April 14, 2011

Competitors in the 3rd Annual NYC August Wilson Monologue Competition, an annual celebration of Wilson's life and work presented by the LeAp arts-in-education organization, hailed from all five boroughs. The three winners will go on to compete at the national competition on May 9.
---
---

New England Fertility Opens Egg Bank
by Kaitlin Ahern - April 13, 2011

The New England Fertility Institute, a state-of-the-art fertility center that will celebrate its 20th anniversary this May, opened an egg bank in January.
---
---

Tie Dye Town Opens in New City, NY
by Kaitlin Ahern - April 12, 2011

Tie Dye Town, a special events venue that offers creative, hands-on art parties, opened its first Rockland County, NY location in late March.
---

Rockland Pediatric Dental Hosts Give Kids a Smile Day
by Kaitlin Ahern - April 12, 2011

On February 4, Rockland Pediatric Dental and Schein Dental hosted Give Kids a Smile Day. Twenty-five children from Rockland's Head Start program were invited for a day of complimentary dental exams, fluoride treatment, and oral hygiene education, mixed with a little bit of fun.
---
---
---
---
---
---
---
---
---
---

The Grand Dame of Pelham Returns
by Kaitlin Ahern - March 17, 2011

The Picture House in Pelham, NY, reopened this March in time for its 90th anniversary celebration.
---
---
---
---