---
---
---
---
---
---
PBS Sponsors Early Childhood Attachment Toolkit Campaign
by Kaitlin Ahern - November 12, 2009

In conjunction with the new documentary "This Emotional Life," set to air in January 2010, PBS will sponsor an Early Childhood Attachment Toolkit Campaign. Read on for more about the campaign and for tips on how to connect with your infant.
---
---
---
---
---
---
---
---
---
---
DVD Review: Tinker Bell and the Lost Treasure
by Kaitlin Ahern - November 05, 2009

Released October 27, the second film in the Tinker Bell series welcomes viewers back to Pixie Hollow – a world where tadpoles blow the best bubbles, fireflies are a girl's best friends, and fairies bring the change of seasons to the world.
---
---
---
---
Pick Your Own Pumpkin Farms in Westchester County NY
by Kaitlin Ahern - September 19, 2011

Find out where to go pumpkin picking in Westchester County, New York. Our guide includes pumpkin patches and farms throughout Westchester that offer pick-your-own pumpkins in the fall, plus fun autumn activities like hayrides, haunted houses for Halloween, corn mazes, and cider pressing.
---
---
Angelina Steps Ahead
by Kaitlin Ahern - September 21, 2009

This fall, the popular PBS Kids show, Angelina Ballerina, will be translated into CGI animation, giving the series a fresh look for a new era of Angelina.
---
How to Spot an Overuse Injury
by Kaitlin Ahern - September 16, 2009

We've all heard the old "no pain, no gain" mantra about sports and exercise. But what about when it comes to your kids?
---
Kids Create Their Own Comic Strips Online
by Kaitlin Ahern - September 10, 2009

Bill Zimmerman's MakeBeliefsComix.com allows users to channel their feelings and forget about everyday troubles by creating their own comic strip. The site is also a learning tool for language, offering options in English, Spanish, French, German, Italian, Latin, and Portuguese.
---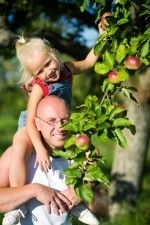 Where to: Go Apple Picking in NY, NJ & CT
by Kaitlin Ahern - September 01, 2009

What better way to celebrate this colorful time of year than by heading to the apple orchards, where you can steal some September sunshine while handpicking a bushel-ful of the season's signature fruit.
---