by Alison Reiser
Check out these fun Halloween events for kids and families in Rockland County, NY, and Bergen County, NJ, including the annual Halloween Parade in Nyack and the popular Zoo Boo in Paramus.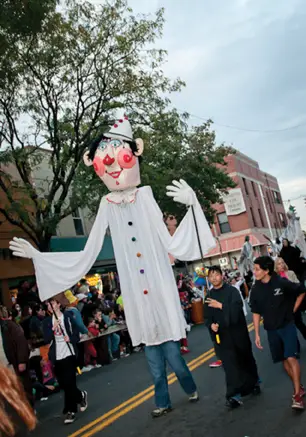 27th Annual Nyack Halloween Parade
Main Street, Nyack
Oct. 25
Dancing ghouls, marching bands, floats, stilt walkers, and giant puppets are all part of the action at this popular annual event. Festivities begin at 2pm with live music in the municipal parking lot in the center of town. Then head down to Memorial Park (where Depew meets the Hudson River), where the parade steps off at 5:30pm. Marchers then head toward Broadway then over to Main Street, ending at the municipal parking lot for live music and an awards ceremony. FREE!
Halloween Spooktacular
Kirkbride Hall, Stony Point
Oct. 25
Begins at the Haunting Hour of 5pm. Featuring a Haunted Hayride, Bounce House, Pumpkin Painting, Haunted Basement, and much more. FREE!
Zombie Barbie Art Lab
Secret Studio Store, Ridgewood, NJ
Oct. 25
Create your own Zombie Barbie while having a blast at this slightly creepy, very cool event benefiting an important locally-based cause. Drop in any time between 3pm and 7pm. Participants can transform an old Barbie into the undead at this spooky but family-friendly event. Tickets are $20 and may be purchased in person at Secret Studio Store located at 11 South Broad Street. You can also purchase tickets by calling 201-203-3767, or visiting secretstudiostore.com. Each ticket includes one doll and outfit (but you are welcome to BYOB - that's "bring your own Barbie") to transform in the store's underground Mad Scientist Art Lab. Advance tickets buyers will also receive a Zombie Swag Bag that includes a Zombie Bar candy bar, a 3D-printed charm, and other goodies. Zombie-themed treats and music will be available throughout the day for participants.
2014 Bergenfield Halloween Parade
Bergenfield, NJ
Oct. 25
Registration starts at 10am at Roy Brown Middle School at 130 South Washington Ave. The big parade kicks off at 11am and will travel on Washington Avenue towards Church Street, and then return to the middle school. There will be prizes for best costume and goody bags for the kids. FREE!
Ghost Stories At The Pond
Haworth Pond, Haworth, NJ
Oct. 25 (rain date is Oct. 26), 7-8pm
Ghost stories, poems, and music for zombies of all ages. Free cider, donuts, and apples for the living! Glow sticks for the first 100 ghouls in costume. Bring your own chair or grave blanket. Need more info? Contact Countess Claudia Gaard at dia175@gmail.com.
'I Spy' Halloween Trail
Hudson Highlands Nature Museum Outdoor Discovery Center, Cornwall
Oct. 25-26
Kids can come in costume to find some spooktacular objects cleverly hidden along the nature center's trails. Afterward, stop in the Crafts and Creepy Critter Room to make a craft to take home.
Suffern Halloween Parade
Suffern
Oct. 26
March in the Village of Suffern Annual Halloween Parade. Parade starts at 2pm at Commuter Lot A and winds through the village to the Gazebo, where you can enjoy refreshments and take part in the Halloween Costume Contest. FREE!
Rag-A-Muffin Parade and Pumpkin Painting Contest
Parade starts at Ackerman Field, Cresskill, NJ
Oct. 26
Parade starts at 10am. Treats served at Cresskill Community Center. Register for Pumpkin Paint Contest at Cresskill Borough Hall or the Cresskill Community Center. Bring your own pumpkin.
Cliffside Park Recreation Presents A Halloween Party
West Grantwood Park, Cliffside, NJ
Oct. 26
The party is from 10am-1pm. All Cliffside Park youngsters are invited to a Halloween party in the park. There will be clowns making balloon animals, a giant slide, a moonwalk, an obstacle course, and a bounce and slide for all to enjoy. There will be cookies and juice for snacks to keep you energized while having some fun. Goodie bags filled with your favorite candies will be given out to all youngsters. No RSVP necessary.
Fair Lawn 2014 Halloween Parade and Family Fun Event
Fair Lawn Memorial Park, Fair Lawn, NJ
Oct. 26
Get into the Halloween spirit by showing off your costume in the Fair Lawn Halloween Parade, enjoying some sweet treats, and participating in this festive Halloween family fun event. Participants that come out for the Fair Lawn Halloween Parade will be given a full size Halloween treat bag. Not only can you use this bag for trick or treating on Halloween but it will already be loaded with treats! There will also be a costume contest with prizes, free donuts & cider and more.
The parade will begin at 10:30am, traveling around Memorial Park, down the Avenue of Heroes, past the Memorial Pool, to the main concession stand. Adults and children are all welcome to be a part of the Fair Lawn Halloween Parade. All participants should gather in their costumes starting at 10:00 am behind the Memorial Pool Bathhouse. In case of rain, the parade will be held inside Memorial Middle School, 12-00 1st St. FREE!
Spook Fest
Palisades Center, West Nyack
Oct. 29
The mall hosts this pre-Halloween celebration with candy, music, and games. Come in costume! FREE!
Ghoulish Halloween Parade and Party
Mahwah Library, Mahwah, NJ
Oct. 29
This event will be held from 4:15-5:05 pm and is sure to create giggles and fright! The party will feature Halloween stories, a parade, a Kurt Gallagher children's concert, and much more. Registration is required.
Bossy Frog Band Halloween Performance
Pearl River Farmers' Market
Oct. 31
Stop by the market's closing day for a special, Halloween performance by the Bossy Frog at 10am. The market features conventional and organic produce from Hudson Valley farmers, local honey and eggs, fresh baked goods, small batch ice cream, cut flowers, children's books, story times, prepared food from Rockland Roots, children's activities and entertainment, and more. FREE!
Zoo Boo
Bergen County Zoo, Paramus, NJ
Oct. 24-25
The zoo opens its doors for trick-or-treaters and special night-time visits with the animals. Kids are invited to come in costume for trick-or-treating around the zoo, ghostly story telling, and magic shows. The Erie Express haunted train ride starts at 6:30pm. (Train ride is not recommended for young children).
Seasonal Workshop at Jill's Ceramics
West Nyack
Fridays throughout October: All ages workshop
Monday & Tuesday throughout October: Toddlers-only workshop
Artists can make unique holiday crafts or seasonal gifts. Make something special for Halloween, Thanksgiving, or simply for fall. Artists can also choose from coffee mugs, picture frames, flower pots, garden markers, and more. Pieces can be taken home or left for glazing.
Halloween Crafts at Grandma's Kitchen
Northvale, NJ
Register is required for these Halloween-themed kids' workshops at Grandma's Kitchen:
Oct. 15 and 28: Halloween Luminary
Oct. 19 and 30: Ghost Cake
Oct. 29: Haunted House
More Halloween Fun
Check out our roundup of the best Halloween fun in Westchester, including The Great Jack O' Lantern Blaze and other Historic Hudson Valley events.
---
Alison Reiser is the calendar editor of Rockland Parent. She lives in Rockland County, NY with her husband and their two daughters. At night, she can be found working the front desk at the Valley Cottage Animal Hospital.