We asked experts in New York City how new dads and fathers-to-be can overcome their anxiety about being a parent. Read on to benefit from their wisdom.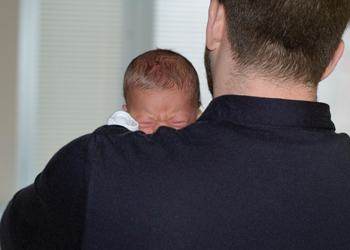 So many parents recount stories of driving home from the hospital with their first newborn...going five miles per hour. Ah, the responsibility of it all - for that teeny-tiny living creature that you made! Parenthood doesn't come with a handbook - rather, these days it comes with a gazillion websites and must-have tomes (often with conflicting advice) that are sometimes so daunting they go unread on the bedside table until the baby is born - only to gather more dust as mom and dad are now too tired and in the thick of it.
And the worries of fathers-to-be can be subtly different from those of their female partners. "Prospective dads have valid feelings, hopes, and fears about protecting their family on all levels," says Rich Esposito, a family counselor in Cortlandt Manor. Men have been hardwired over time to adopt the role of provider, and bringing a child into the mix ups the ante. "Everyone imagines living in a world of family values, station wagons, and suburban homes with white picket fences. We see nostalgic Norman Rockwell posters," he says. "But the reality in today's society is a rising unemployment rate that especially affects men. They may face financial insecurity, the pressure of holding a job, and healthcare concerns."
How to allay the anxiety? Remember: Becoming a parent is an exciting time, so relish it - and be assured that all of the things that you are worried about are things that every new parent worries about. For more specific advice, we asked local experts:
What is your best advice for a nervous new dad about to head home with baby?
"Congrats! It is perfectly normal to be nervous! The best thing you can do for your child is to hold them close, convey your love to them in word and deed, and seek the wisdom of seasoned dads who have 'been there, done that.' And a nice bouquet of flowers for mom is a good idea too!"
- Nicole Baker, L.M.H.C., N.C.C., executive director, Boro Pregnancy Counseling Center, Bayside, NY
"Having just had a baby a little over a year ago, my husband was more excited than nervous about bringing home baby. It's all in the preparation. Having read books, browsed websites, taken class, and just talked about what was to ensue, he wasn't worried at all about bringing home our beautiful daughter, but was rather excited to get to try out his daddy skills. So read, read, and read and talk to your wife about a good plan for parenting before it all happens!"
- Kathy Sacoulas, registered nurse and owner, Progressive Martial Arts, Fresh Meadows, NY
"Let me begin by saying that I am a parent first and psychologist second, so that I have to practice what I preach! With this in mind, as parents, I feel we are all living in a state of chronic worry about the safety and welfare of our children. The world we live in today can be a scary and chaotic place which serves to fuel such anxiety. I think the key is that we do our best to help build confidence in our children, despite our own misgivings.
In answer to this question, I have taken a longer-term approach. I believe as parents we need to continually weigh the odds and make use of an internal system of checks and balances in order to give our children opportunities to be more independent and build self-esteem. We need to always be mindful of the following: What are the risks? Benefits? And what is our own stuff from childhood that could be interfering with our children's growth?
We should be are our children's biggest cheerleaders. Children of all ages want to be treated like 'bigger kids.' We always hear from them, 'Don't treat me like a baby.' We have to be creative in giving them opportunities to try new things and be more independent (in a safe way). For example if your eight-year-old wants to go to the store alone and it's not safe, better to not just shoot down the idea completely, but alter it so that he or she is safe but still achieves a feeling of independence. For example, you might pull your car up in front of the store and allow your child to go in to purchase items alone. If your child loves animals, yet you are fearful, you can discuss with them safe ways to approach animals, and be a fan on the sideline! Again, our kids read our expressions, so keep your own anxiety in your pocket and be positive and encouraging."
- Mary Beth Andrews, Ph.D., clinical psychologist, Little Neck, NY
Also see: More advice for nervous new dads
Our Ask the Experts section, for practical parenting tips from experts in the New York metro area