This October, award-winning kid-lit author David A. Adler visited Queens College (his 1968 alma mater) to share writing words of wisdom with more than 200 local elementary schoolchildren and the college's elementary education students.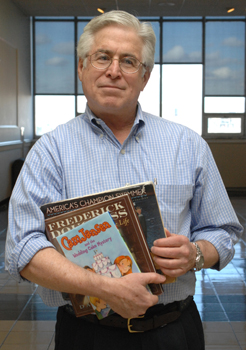 On October 14, nearly 200 third- and fourth-graders from P.S./I.S. 499 and P.S. 266 in Queens, along with a large group of undergraduate students from Queens College's elementary education program, gathered at the college's student union to hear award-winning children's author David Adler talk about his inspirations and how he writes his books. "If you're not having fun writing, you're working too hard at it," Adler told his young listeners.
Adler, a prolific author of books for children and young adults, is a voice of experience who was delighted to return to Queens College, where he graduated in 1968 with a BA in economics and education. Among his most widely read titles are the Cam Jansen mysteries (over 25 million of them are in circulation around the world and have been translated into many languages); the Picture Book biography series co-authored with his son Michael; and several acclaimed works about the Holocaust. A number of Adler's books were inspired by children, including the Andy Russell series, which is loosely based on adventures the Adler family had with their son Edward and his pets.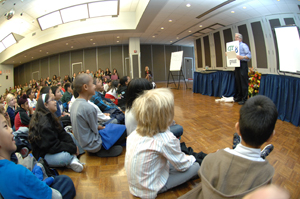 Adler received the annual Knickerbocker award for his body of work in juvenile literature from the New York Library Association in 2009. For the next nine years, Adler served as a mathematics teacher in the NYC public school system while working toward a master's degree in marketing, which he received in 1971 from New York University.
To learn more about the author, visit www.davidaadler.com.
To find upcoming events for kids and families in Queens and/or the New York metro area, visit our Online Calendar