Related: park, mets, fairs, botanical garden, zoo, museum, art, science, farm,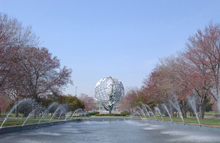 From two World Fairs, to the New York Mets' games, to the U.S. Open, the largest park in Queens is renowned for hosting many historic and exciting events. You'll need a whole day to explore everything Flushing Meadows Corona Park has to offer within its 1,255 acres: two lakes, a carousel, picnic areas, athletic fields, miniature golf, and numerous cultural institutions, including the Queens Botanical Garden, Queens Zoo, Queens Museum of Art, the New York Hall of Science, and Queens Theatre in the Park.

Historic Spots
The centerpiece of the park is the Unisphere, a 140-foot high stainless steel globe, which was presented at the 1964 World's Fair. Other statues from that era include the Rocket Thrower, designed by Donald De Lue; Form, a sculpture by Jose de Rivera Jose de Rivera; Freedom of the Human Spirit, sculpted by Marshall Fredericks; and the New York State Pavilion and Towers. Two time capsules from September 1938 and October 1965 are buried underground, marked by a granite monument. Another unique feature of the park is the model airplane field, a fenced-in circular area where families can fly Control Line model airplanes.

Indoor and Outdoor Fun
Families can enjoy six playgrounds. Three are dinosaur-themed, and one, the Playground for All Children, serves kids with or without disabilities. There are plenty of athletic fields, for soccer, baseball, basketball, and cricket, and tennis courts, all available by permit. The USTA Billie Jean King National Tennis Center, which hosts the U.S. Open, is open to the public year-round. Enjoy miniature golf at Pitch & Putt Golf, take a ride on the carousel, go for a stroll on the Flushing Bay Promenade, or view animals at the Queens Wildlife Center and Children's Farm. In addition, rowboats and paddleboats are available for rental at the boathouse at the freshwater Meadow Lake. This serves as a popular fishing, picnic, and barbequing spot.

Summer Special Events
Several free Columbian, Ecuadorian, Peruvian, Mexican, and Dominican festivals are held here during the summer, each of which attracts thousands of people. Check www.nycgovparks.org for dates.

The Hong Kong Dragon Boat Festival will be held August 8-9, 9am-5pm. Over 100 teams compete for prizes by rowing a dragon boat. Families can enjoy ethnic foods, martial arts demonstrations, music, and dancing.

Queens Theatre in the Park showcases the play The News in Revue, June 13 and 20, and August 1 and 8. The summer musical, Sweetie, will play July 16-25.

What's New This Year
A new, 110,000-square foot indoor Aquatic Center features an Olympic-size swimming pool and skating rink. Citi Field, home to the New York Mets, also opened in April.

If You Go
Where: Flushing Meadows Corona Park, Queens.

When: Year round.

How much: Prices vary per activity; check website below.

How to get there: Take the 7 train or LIRR Port Washington line to Mets-Willets Point stop. By car, the park is accessible via the Grand Central Parkway, Whitestone Expressway, or Long Island Expressway. See website for specific directions.

Contact info:
Flushing Meadows Lake Boathouse: 718-271-3005; open weekdays 11am-6pm and weekends 11am-7pm, June-October
Aquatic Center: 718-271-7572
Mets Tickets: 718-507-TIXX
National Tennis Center: 718-760-6200
Playground for All Children: 718-699-8283
Pitch N Putt Golf and Miniature Golf: 718-271-8182
Carousel: 718-760-9583
New York Hall of Science: 718-699-0005; www.nyhallsci.org
Queens Museum of Art: 718-592-9700; www.queensmuseum.org
Queens Botanical Garden: 718-886-3800; www.queensbotanical.org
Queens Theatre in the Park: 718-760-0064; www.queenstheatre.org
Queens Wildlife Conservation Center: 718-271-1500; www.queenszoo.com
Athletic fields permits: 718-760-6889 for baseball, soccer, or cricket; 719-699-4225 for tennis

For more information: 718-760-6565 or www.nycgovparks.org
---
Get Your FREE Indoor Activity eGuide!
---
More Parks & Recreation Articles
Queens County Farm Museum: A Rural Getaway Right in NYC
Camping & Scout Inspired Summer Activities
Go Wild for National Park Week
Where to Go Sledding in the NYC Area
Expert Tips for Hiking with Children in the Fall

Be a good fellow parent and share this with a friend who would be interested
Local Parks & Recreation Sponsors
See Our Parks & Recreation Directory