Related: edible expressions, queens, fortune cookies, extra large, personalized, message, customize, gift idea,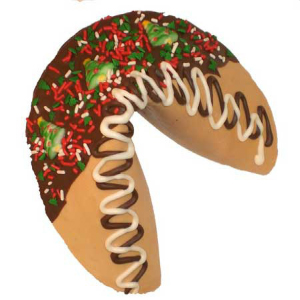 Edible Expressions is a new Queens-based fortune cookie company with a big idea - offering an outsized fortune cookie that measures 7"x7". The paper inserts that are tucked into the cookies can be personalized with any message, and the cookies can be tinkered with to suit the whims of the customer.

"The cookies are great if you want to propose to someone or wish them a happy birthday," says Eleni Tropaitis, the company's marketing representative. They can also be used as favors for parties or as marketing tools for businesses. Cookies can also be customized with edible frosting designs, which is a great option for Valentine's Day.

Each 7"x7" cookie is $22.99, with discounts on bulk orders; conventional size fortune cookies are also available. Call 718-777-0771 for orders. Ground and express shipping is available.
More Local News - Queens Articles
Soccer Friends USA to Begin Weekend Futsal Program
Mommy, Music, & Me, Inc. Adds Two Class Locations in Queens
Forest Hills Music School Offers Lessons, Music Therapy
Little Apple Preschool to Expand Facility for 2015 Semester
Bayside Music School Offers Young Kids' Class, Private Lessons

Be a good fellow parent and share this with a friend who would be interested
Local Local News - Queens Sponsors
See Our Local News - Queens Directory