BabyNOIR boutique opened on Feb. 1, introducing fashion, fun, and education to boys and girls in Astoria. "People no longer have to travel for fashion," says Kazuki Kozuru-Salifoska, store owner and designer of the children's apparel lines babyNOIR and babySOLAIRE. "I wanted to have a place where people in Queens could come and shop."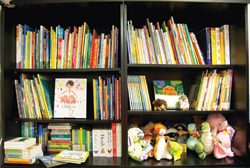 Like many New Yorkers, much of Salifoska's wardrobe is black, and she says she wanted her daughter to match. Salifoska began designing clothing for children three years ago, and says her daughter Kharin, now 3, was her inspiration. She was having a hard time finding black clothing for her daughter and decided to do something about it. BabyNOIR is a collection of black clothing for children, newborn to 8-year-olds. BabyNOIR boutique also offers a colorful collection, babySOLAIRE, which offers a vibrant mixture of colors and interesting patterns.
Along with clothing, babyNOIR boutique also offers arts and crafts classes for children. Children can make friendship bracelets and sock puppets as well as weave paper baskets and participate in decorative workshops. BabyNOIR also hosts arts and crafts classes for adults that include sewing and crocheting.
Inside babyNOIR is a popup bookstore, The Story Nook. The Story Nook hosts a free weekly story/rhythm time featuring age-appropriate books, egg shakers, and a Balkan drum.