Get outside! Celebrate the start of spring this March with these fun family events in Queens. The parks and gardens come back to life this month, offering kids and families the opportunity to reconnect with nature and get some healthy outdoors time while having fun together.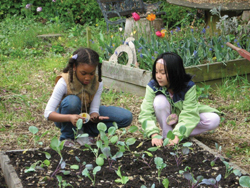 March 4
Greet the budding flora and keep up that family fitness plan at an Orienteering class in Cunningham Park, where you'll learn how to navigate the outdoors using a map and compass. As with all hiking programs, wear comfortable shoes or boots and pack water and a light snack. FREE!
March 10
Next, get ready for spring at the Queens Botanical Garden's HSBC Children's Garden Family Day where you can learn more about the Children's Garden programs for kids ages 5-12, get discounts, and join in some family fun. FREE!
March 25
Two weeks later, celebrate the first day of spring at QBC's March for the Earth, when you can join volunteer projects at QBG and the Flushing Meadows-Corona Park Unisphere. FREE!
Spring is also the season of the birds and the bees. Celebrate the bees at Alley Pond Environmental Center's Honey and Honey Bees program, where you can learn about the lifecycle of a honeybee, how honey is harvested from a hive, and what's happening to bees in today's world.
March 31
And bring the family back to QBG March 31 for an Opening Weekend garden party, when you can take a garden tour, plant a seed, and welcome spring. FREE!
For even more fun family events in Queens and the NYC area, head to our full, searchable calendar of events.