Even when you've planned and prepared till the cows come home, hosting your child's birthday party can have its moments of stress - especially when a guest becomes unruly or disruptive, threatening the fun for everyone. We've compiled advice from party experts in the Queens area on the best way to deal with a rude party guest, so you'll be prepared to save the day when the time comes.
Party Poopers, No More!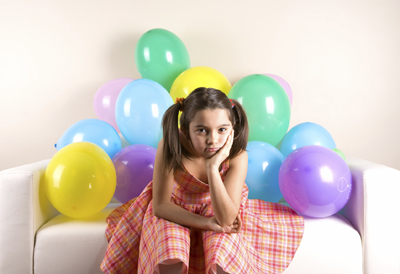 Even when you've planned and prepared till the cows come home, hosting a birthday party for kids can have its moments of stress. Remember that the occasion is marking another of your child's milestones (one year older, one year wiser, and one more candle on the cake!) - so don't let something as inconsequential as a whiny or unruly child ruin your day, and especially your child's.
All your prep will go far in creating an environment conducive to fun and peace: Pick age-appropriate activities and party places, know your guests (and their parents' expectations), etcetera, etcetera. And then be prepared for anything. As Natalie Swatz, a restaurant manager with 10 years of party entertaining experience under her belt, says, "Not every four-year-old likes hot potato or balloons. By having clear plans in place, you've certainly won half the battle."
To prepare you for the other half, we asked her and other local experts - who've seen it all - for their advice:
How can parents deal with a young guest who is being disruptive at their child's party?
"Calmly take a rowdy child aside and politely and firmly request for a specific behavior to change. You might say, 'There is plenty of birthday cake for everyone. Please do not take other people's food.' Dealing with a misbehaving child at a birthday party can be as simple as distracting the child with a task such as handing out napkins or setting up a game.
For children older than six years, we recommend at least one adult chaperone for every three children."
-Jennifer Brunjes, vice president of special events, New York Hall of Science, Flushing
"For the past eleven years and counting I have been running the birthday parties here. From my experience, the best way to handle such a situation when a child's parent is not present is to take her aside to see what might be bothering her. If that doesn't help then I suggest you call the parent and have the child picked up. Never reward bad behavior, but do try to influence positive behavior.
In terms of parent chaperones, I recommend one adult for every three to five kids for ages 6-10; one adult for every eight to ten kids for ages 11-15; and request participation from all parents at a party for children aged five and under.
Keeping children of all ages engaged can be done with music. Always have music involved in your activities and kids will have a good time! At parties, don't try to be overly structured. Let them have fun!"
-Carol Giancola, director of birthday parties, Samuel Field Y, Little Neck
"To avoid this type of situation, whenever possible parties for children under the age of five should include the parents as guests-and be sure to define the parents' role at the party. This lets them know that they are expected to stay and guide their child if required. When parents cannot attend, it is always advisable to invite extra adult guests or hire helpers who are prepared to assist when children require more supervision."
-MaryAnn O'Neill, director, Gymboree, with locations throughout Queens, Fairfield, and Westchester
"I would suggest keeping an unruly child constantly active during the party. That leaves very little room for bad behavior.
Age-appropriate games and activities will help keep the child engaged and happy. Children become more easily managed at birthday parties when they are four to five years old."
-Maria L. Borrero, owner, My Gym, Fresh Meadows
"To effectively keep order at a birthday party, it's important to first look at the ages you are serving. Obviously, for kids three years and below, I recommend that their parents be required to be there. For kids four and up, I think it's equally important to set the rules before you start the party. For example, before we enter the party room, we always lay down some ground rules like: 'When we say freeze, everyone must freeze in this position.' The rules are fun but keep the kids in some sort of order. Age-appropriate games that are organized and go smoothly must be available to keep the kids from getting bored and running amok. Finally, having at least one adult per ten children is important so that supervision is optimal."
-Kathy Sacoulas, owner, Progressive Martial Arts, Fresh Meadows
"I would make the child a 'helper' and keep him or her near me while I worked with the horses. This would keep the child entertained and next to you so that you may monitor hem or her. You can translate that to any other birthday party situation, too: Keep the distracted child engaged!"
-Joy Muravez, owner, Western Riding Club, Flushing
"The most important concept in avoiding dealing with troubled children during birthday parties is to keep the children constantly moving and engaged. The problem usually is in the amount of energy the child has, and in our profession that is something that we don't try to lessen, but instead direct. However, if the child is in danger due to this outbreak, an adult/instructor/owner is required to pull the child away from the activity so as to not disturb the rest of the party, while still giving the child the freedom to continue the temper tantrum until a parent can come and pick him or her up."
-Marret Cooper, manager/head instructor, Good Times Gymnastics, Flushing
See more advice from experts in your area on how to handle an unruly party guest