Education experts from the Queens area weigh in on how parents can establish a positive relationship with their child's teachers, thus ensuring their child's long-term success in school.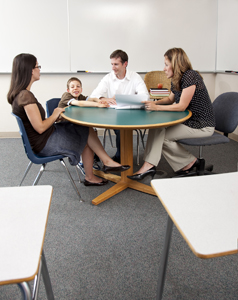 School experiences for children and parents alike can run the gamut from "the time of my life" to dread and avoidance. Generally, the better the communication that exists between the parents and the school staff, be it administrators, teachers, or aides, the healthier (and happier) all parties will be - most notably, the child.
"Good communication between parents and teachers or tutors is paramount," says Judy Suchman, director of the Chappaqua Learning Center. Often "parents can have expectations for their child that may differ markedly from the teacher's," she adds.
Bridging that divide - and doing so positively - is one of the most beneficial things parents can do to ensure their child's long-term success in school. As Gail Doroff, director of Robin Hill School in Suffern, observes: "It sets the stage for future education." With that in mind, Robin Hill School has a particularly inclusive perspective, where parents are always welcome; they are even encouraged to observe their children through two-way mirrors on each classroom door.
Many schools have policies and cultures such as this in place that promote good communication, and it is important for parents to keep that in mind when deciding where to place their children. No matter where you send your child for his education, though, there are things you can do to help you make the most of the parent-teacher relationship.
We asked local experts:
What advice can you give to foster better parent-teacher relationships?
"Parents often become anxious about their child's new school experience at this time of year and wonder how they will be kept "in the loop" with regard to their child's development and progress. First and foremost, particularly during the preschool years, parents should seek out schools that welcome parents through an open door policy. Although it may be difficult when both parents work out of the home to set aside time to participate in your child's school experience during holiday events (such as a Thanksgiving feast), school-wide events (like book fairs, secret reader programs, community helper days), or birthday parties, your presence in school helps to build an informal communication network as well as a comfort level with teachers. Participation in the parent association provides added opportunities to be part of school life. Be sure to read newsletters that come home to keep you apprised of classroom activities and to find follow-up activities to do with your child. On a preschool level, communication notebooks that travel between home and classroom are also useful for establishing a steady flow of information.
Parents should not forget that communication needs to be a two-way street, as parents are extremely valued partners in their child's educational experience. Sharing happenings at home such as the birth of a new baby, moving to a new home, a death in the family, visits with grandparents, or a change in babysitter, helps to shed light on children's behaviors and allow the school to give support to your child when they need it most. At the same time, when teachers share school experiences with parents it provides the springboard for language development and allows parents to feel part of their child's day.
Attending regular parent/teacher conferences and calling your child's teacher when questions arise are certainly other ways to ensure that you as a parent have all the information you seek about your child. Finally, if at any time you feel you have not gotten an adequate response to your questions, you should feel welcome in calling school social workers or administrators to help facilitate the process."
- Roberta Rosenblum, program director, and Diane Morrow, assistant director, Little Meadows Early Childhood Center, Fresh Meadows
"Sometimes people speak in generalities and neglect to articulate their specific concern or question. Ask direct questions and give examples when sharing. Always be respectful and look for one sincerely positive thing to say."
- Karen Blatt, director, Flushing Christian School, Flushing
"When I am at home or at school I feel the same way as many other parents because my children are special to my family. At home, I am a parent. At work, as a child psychiatrist, I am on the other side. Parents come to my office with a chief complaint of 'My school sent me here,' or I receive a phone call from school with a report that a child needs help. I often think if teachers and parents could understand each other better it would be much easier on the child.
Effective communication is key. All parents want their child to be treated special, the ways parents treat their children at home.
There are ways to improve this at school, too. Anxiety, fear of unknown, and miscommunication are often in the way of building a quality relationship between teacher and parent. It is necessary to build a good rapport. The communication should go three ways: parent-teacher, parent-child, and child-teacher. Do not discard the child's opinion. Though he may be young and immature, as an individual he often knows what he needs to feel comfortable in the school environment.
Ask yourself: What would be helpful for a teacher to know about my child? Make a list of expectations for your child for this school year - and they must be realistically possible for him to achieve. (I often deal with gifted children whose parents' expectations are far from reality.) Communicate this list to the teachers, and ask if they can give you feedback on the ways to achieve what is on it. Communicate and share the goals between the three of you, and adjust them depending upon progress.
The more a parent and a child are prepared, the less anxiety-provoking this process is. Despite natural anxiety, be yourself when you are communicating with a teacher. It will help your child to see you being positive and confident, too. Express your worries in positive ways, and make it clear that even though those are your worries, your child may not share them.
Hearing alternative opinions can help a child move forward in his achievements. It doesn't mean that a parent has to agree on everything a teacher says. But think about a proposed idea before rejecting it. You can always schedule follow-up appointments with the teacher to discuss progress or special needs. Discuss any suggestions from the teacher with your child. As I mentioned before, everyone wants to be heard and understood, especially our children. And remember: Most teachers are parents themselves."
- Marina Doulova, M.D., director, ABC Psyciatric Services, Forest Hills Gardens
"Emailing the school's director is a great way for parents to communicate about a child's progress. Parents tend to demand immediate overnight results, which is understandable but not always feasible. Personal individualized appointments may be made with a child's teacher after school hours - this is when a teacher can lend her full attention!"
- Evelyn Bello, executive director, Jack & Jill Schools, Flushing
"Parents should be interested in how their children are doing both in the classroom and in their after-school involvements. In a sports-based program like ours, the most informative thing parents can do is show up and watch their child in action. I know this is not always possible, but it's the best way to determine if the child is really having fun and to show the parent how they are achieving. With a parent present and applauding, a child receives validation for his or her successes."
- Joel Mansbach, director, First Shot Basketball School, with locations throughout Queens
"I find dealing with inquiries of parents of infants and toddlers is best done on a case by case basis. Some parents initiate communication and typically inquire about the status of their child's progress, and perhaps express concern only if they feel there is a negative change in progress or they are falling behind.
For me, the preferred method is by email because we create a record of the inquiry and the response, as well a running track record of a particular concern. This also documents whether the inquiry is justified or whether we are taking action on a specific inquiry.
One pet peeve is that too often parents expect to make inquiries at the time of drop-off or pick-up. I try to impose very limited communication then because it is simply too busy. Any distractions, including parent inquiries, leave the possibility that their child or the other children in our care will not have the full attention we are required to give each child. Phone calls can also become a distraction. Even so, I understand that email is not always convenient, and parents may wish to keep certain information solely between them and the owner of the daycare business. For this reason, I do try to work around this sensitive issue, as parents' concerns must be appreciated."
- Melissa B. Galfano, owner, Toadlers Pond Inc., Forest Hills
See more advice from other area experts.