It's all about the bike this month in Queens - kids and families can learn to ride a bike, decorate their wheels, swap their ride, and join the Long Island City Bike Parade.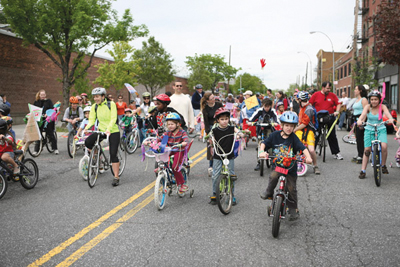 On Saturday, June 19, Socrates Sculpture Park will host its Third Annual Long Island City Bike Parade. All members of the Queens community are invited to participate in the parade, which will begin at 3pm, rain or shine. The event is presented in conjunction with a number of local businesses, including Bike New York and the NYC Department of Transportation's Traffic Safety Division.
In preparation for the parade, children and families can take part in a bike decorating workshop. With the help of Socrates Sculpture Park artists, kids can transform their bicycle, tricycle, or scooter into a mobile work of art and then flaunt it in the parade. Participants can also grab free helmets, receive riding safety tips, and have their bike repaired before the parade. Workshops start at 11am.
If your little one wants to ride in the parade without his training wheels, hop over to Hallets Cove Playground first, between 10am and 1pm. They'll be offering a free Learn to Ride a Bike program for ages 5 and up, using a safe, easy, and effective method to teach bike riding. Participants should bring a helmet and a bike that fits them. Preregistration is required; call 212-932-2453. For more information, visit www.nyc.gov/parks.
Or maybe your slightly older child has outgrown her bike and needs a new set of wheels to show off. If so, you may be in luck if you plan ahead. On Saturday, June 12, 12-3pm, Socrates Sculpture Park will host Recycle-A-Bicycle Bike Swap, where community members can bring their gently used children's bicycles to donate and/or swap. For more information, visit www.recycleabicycle.org.
Socrates Sculpture Park is located at 32-01 Vernon Boulevard in Long Island City. For more information, call 718-956-1819 or visit www.socratessculpturepark.org.