The game of tennis requires coordination and dexterity. The USTA works hard to lure youngsters into the sport. A new program has been under development in select cities around the country including USTA Billie Jean King National Tennis Center in Flushing and launches nationally this month. QuickStart Tennis, designed specifically for ages 5-10, aims to develop skills by playing, not drilling. In fact, the motto of the new program is "Play to Learn" rather than "Learn to Play".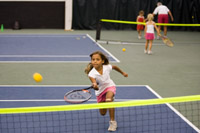 QuickStart begins with equipment. Racquets are smaller and easier to control. Even the balls have a make-over; for kids 5-8 two balls are used, one ball is a large, bounce-able foam ball and the other is a very low-compression ball; for ages 8-10, a low-compression ball has less bounce than a regular tennis ball.

The warm-ups and drills developed by QuickStart, which the USTA uses in its Jr. Team Tennis League, are simple enough that a parent can reinforce them with their kids; in fact, for many of these you don't even need a tennis court. Kids warm-up with side steps and hops over cones, which improve footwork on the courts. They use the racquets and balls to bounce and tap balls to a partner.

Kids play on scaled down courts which have smaller nets; a 36' x 18' court is used for kids 5-8 and kids ages 8-10 play on a 60' x 21' court. On a full size court, you can use blue painter's tape to reconfigure the court, and even run a lower net perpendicular to the net already in place. QuickStart coaches encourage all balls to be returned.

Four of the smallest courts can be set up on one regular court — where there is limited space. Court space isn't at such a premium at the Tennis Center, but the QuickStart format is starting up at over 1,000 tennis facilities across the country.

And, recognizing that kids like to keep score, the scoring system has been simplified; for kids 5-8, it's best of three games, played to seven points; 8- to 10-year-olds play shortened sets.

The National Tennis Center hosts the US Open every August, but the public can use the courts 11 months a year. Parents and kids alike get to try out the same courts the pros use.

For more information on the QuickStart program, go to www.quickstarttennis.com.