The Science and Technology learning center RoboMindTech in Fresh Meadows is offering a new workshop for children that introduces a new technique for creatively learning about science, technology, and teamwork while having fun. Beginning in April, a new Spring Break Lego Chess Workshop will take place for children ages 7-12.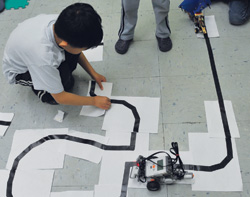 RoboMindTech began using Lego as a tool to create a model for children to understand and use robotics. The workshops are created to inspire kids to design and implement with innovative ideas, says Dennis Chan, creator and coach of RoboMindTech. "All kids are innovative," Chan says, "but they don't make things because everything is made for them."
This spring, the Lego Chess Workshop will be offered for two levels, the beginner player and the advanced player. Beginners will have a chance to build their own Lego chess pieces and learn to play the game. More advanced students will be able to improve their skill on the game as well as learn the strategies needed to be successful at chess. Mini tournaments will take place for each level on the last day of the workshop to put what they've learned to the test. "We want to cultivate a passion for learing using Lego," Chan says.
RoboMindTech also offers an early childhood workshop for children ages 4-6 that uses Lego creativity to build motor skills as well as summer camp for robotics learning and an open seasonal registration for children interested in learning about science, technology, engineering, and math while having fun.