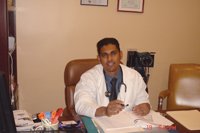 Meet some of the health professionals in Queens, including pediatricians, dentists, and nutritionists catering to kids and families.
ALLERGY & ASTHMA FAMILY CARE OF QUEENS
42-21 Francis Lewis Boulevard, Bayside; (917) 584-6770
935 Northern Boulevard, Suite 104; Great Neck
www.allergyny.org

We are dedicated to providing high quality care to adults and children with allergic conditions. Our physicians are board certified and endorsed by the American Academy of Asthma, Allergy & Immunology and the American College of Asthma, Allergy & Immunology. Our lead physician, Dr. Persaud, has appeared on NY1, CBS, and the Bronx Care Network. He has published numerous articles on the management of allergic and asthma conditions. Living in Queens for over 25 years, he has completed medical school, residency, and his fellowship in New York's most prestigious institutes.

COHEN, JOAN DORFMAN, PH.D., APRN, BC
350 Northern Boulevard, Suite 310, Great Neck
(516) 482-3312
Dr. Cohen is a board certified, neurofeedback specialist and expert in the treatment of ADD/ADHD/LD/PDD and Autistic Spectrum Disorders. EEG biofeedback (neurotherapy), a proven non-medication treatment, provides permanent results as well as eliminates many behavior problems. Dr. Cohen and special education professionals work directly with you, your child, and teachers to provide an individualized program including neurotherapy, parenting strategies, family counseling, individual therapy, educational planning and tutoring. Dr. Cohen has cared for children and adults for over 35 years.

SHEEPFOLD PENTECOSTAL CHURCH, INC.
9131 Hollis Court Boulevard, Queens Village
(718) 464-1950
World Black Church for Power, Progress & Peace
The Rev. Gilberto Rosado is authorized in New York to practice as a psychotherapist and is founder of the Cognitive Mentoring Therapy Method. He has authored academic texts, taught courses throughout the U.S., Central & South America, and has been invited to Europe and the Philippines. Through programs and the Internet, his particular, effective therapy is helping thousands of families solve issues, live happily, and ensure success in academics, business, career and life! He offers a comprehensive approach that addresses your individual & family needs - offering low-cost / sliding-scale fee.


SLATER COUNSELING GROUP
Manya Slater, LCSW
96-17 69th Ave, Forest Hills
(718) 268-2041
Manya has been in private practice for over 10 years with significant experience working with families in crisis, with teens making poor choices, and with people who are having a hard time in relationships. "Teens need to identify with others before they open up and consider making better choices. That is why I offer 'Groups-for-Teens' to help them, and you, with the challenges of that age." Manya is also a teacher and lecturer at the Outreach Training Institute for teaching drug treatment counselors. Take the first step by calling.