Think your kids spend too much time in front of a screen? A visit to the Museum of the Moving Image in Astoria will put a context around all that content.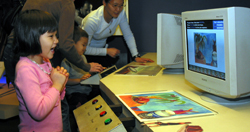 The museum's core exhibition, Behind the Screen, investigates how films, TV shows, and video games are developed and produced. Spanning two floors and 14,000 square feet, this is a treasure trove of cultural artifacts, computer-based interactive experiences, hands-on demonstrations, video game play, and film screenings. Kids can improvise and record a video flipbook that can be purchased for $5 at the museum gift shop on the way out. They can experiment with stop-motion digital animation, too, by photographing arrangements of plastic cut-outs of vintage swimmers, jars of marshmallow fluff, trout, Christmas turkeys and more. They can learn about music supervision by changing the musical arrangements in scenes from popular films, or explore automated dialogue replacement by recording their voices into famous movies. Demonstrations include sound and film editing, and the kinetoscope, an early motion picture viewing device. Classic movies and cartoon serials screen daily in Tut's Fever Movie Palace, an artist's tribute to the Egyptian-inspired movie theaters of the 1920s.
   Grownups will also be fascinated by the wide-ranging collection on display.  Among the highlights are studio promotional portraits of  Hollywood stars, an early mechanical television, and a Yoda puppet from the 1980 film, The Empire Strikes Back.  There are also a Sony Betamax videocassette player, the dinosaur replaced by VHS format; costumes worn by Hedy Lamarr as Delilah in Cecil B. DeMille's 1949 epic film, Samson and Delilah; and the "roach" wig worn by Robert DeNiro in Martin Scorsese's 1979 Taxi Driver.
   Located on the site of the old Astoria Studio, the museum houses the country's largest and most significant collection of moving image artifacts, with over 83,000 items representing one of the most important collections of its kind worldwide. Built in 1920 across the East River from Manhattan, the studio was Paramount Pictures' east coast wing, considered "the largest, busiest, and most significant motion picture and television production facility between London and Hollywood."  The site was later used for independent film production and by the Army Signal Corps Photographic Center.
   The William Fox Gallery on the museum's first level is closed for renovations until 2009; however, the core exhibition and screenings will continue unhampered.
 Info:
Where: 35th Avenue at 36th Street, Astoria. On weekdays, use the R or V train to Steinway; on weekends, take the R or G.
When: Wednesdays and Thursdays, 11am-5pm; Fridays, 11am-8pm; Saturdays and Sundays, 11am-6pm.  Screenings: Fridays at 7:30pm; Saturday and Sunday, afternoons and evenings. Classic movies or cartoon serial screenings: 1 and 3pm daily.
How much:  Admission is $10 adults; $7.50 seniors and college students with ID; $5 children ages 5-18. Galleries are FREE Fridays 4-8pm (does not include film).  Screenings of classic movies are FREE with admission. 
For more info: (718) 784-0077; www.movingimage.us
Note: Strollers must be checked.